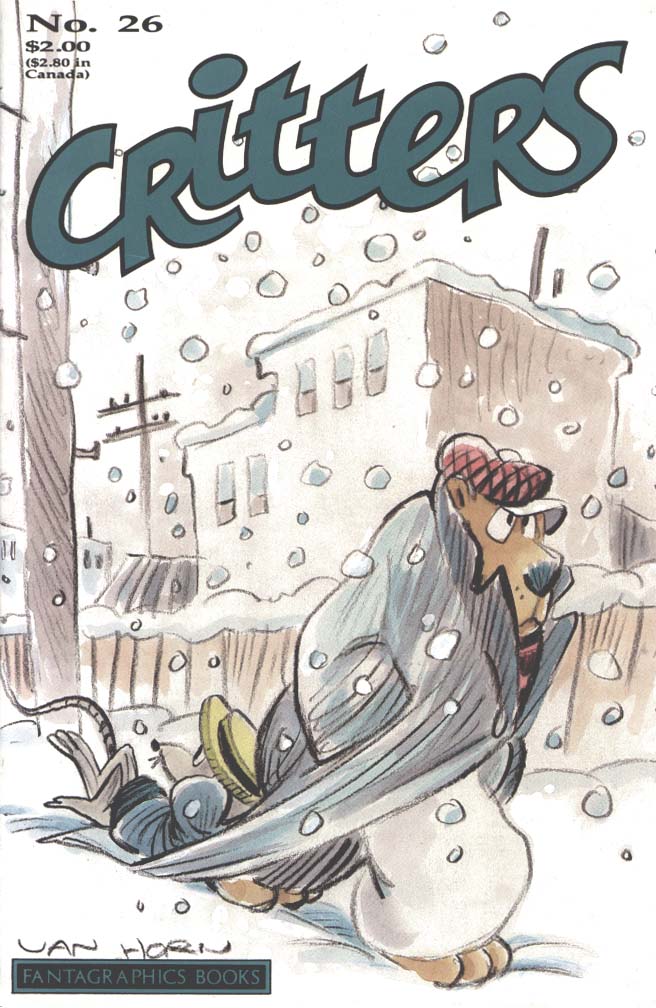 When I was looking up the last chapter of 'Gnicky Superstar' in Critters I came across an entry with William van Horn. He also occupied the front cover. I came to reflect on that contribution, which was really impressive and sensitive. And so was the five page story inside which I then turned to, where his characters wander around in the snow to find some purpose in life.
I then came to think of Williams' further career, where he shifted to draw Donald Duck. He did that with some personal gusto that placed his contributions in a category of his own. His personality shone through just so much, that his stories did not compare with the old master Barks in any inferior way.
I exchanged some letters with Canadian William van Horn during the period where we worked with the ducks simultaneously. He was the only English language duckman I had contact with over the years, and in a way we became kind of friends, professionally interested in each other's endeavors. Of course we were both familiar with the other's style and subject matter from our contributions to Critters.
Presenting my weakness on this site for other funny animal creators, William occupies a natural place for the originality in his work, both in story writing and in drawing.
Come to think of it, I must admit, that I do prefer when he handled his own stuff. As is probably the case with me, it brings out the best when you are not forced to tag along other predecessor's apron strings.
In fact the black and white rendering in his short episodes 'Angst' is artistically very impressive and sensitive, which also goes to show, that given the proper approach you don't need any colors to bring across an effective working funny animal story.
There are indications both in the philosophical tone as well as some of the graphics revealing that William van Horn appreciates older funny animal comics, such as Krazy Kat and Pogo. But that's by no means a disadvantage.
So here's an example of a first class funny animal story with a reflective mood.