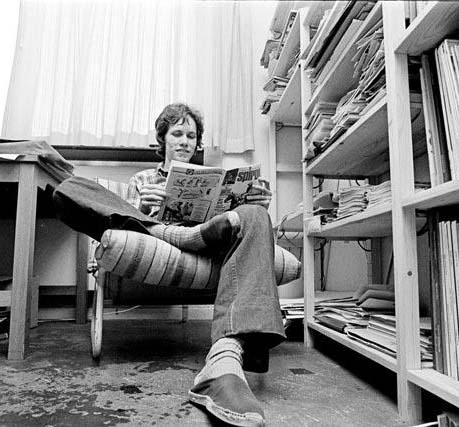 Jørgen Angel did this portrait of Henning Kure
executing the responsible task as an editor at the Interpresse publishers.
THE TRAVERS
The first half of the 70'es was a frantic period of my slowly developing career. To quote from the 10 page story with Donald Duck as a giant kite flyer in the hands of Carl Barks I was ready to throw in the towel and admit: "I'm just a stupid youngster, who thought I could be a cherished storytelling comics artist in Denmark!" Of course I waited for the banquet master at the hotel terrace to continue: "Gentlemen! Meet the giant executor of epic storytelling in Danish comics!"
Anyway, I had a lot of kites in the air at the time, but neither of them were very big, nor did they fly very high, and probably they weren't all that beautiful either…
One of the projects did have some appeal and does not look too bad even after 35 years.
Through a new Comics-club founded by Carsten Søndergaard in his parent's basement I got in contact with another of the early members, Henning Kure. He later became a prolific editor of the growing album publishing profile at the Interpresse Publishers, but over a number of years before that we exchanged letters on all topics concerning comics and related stuff. Amongst other things he was also a profound admirer of the Clint Eastwood westerns, and at an early stage he mailed me a plot for an album-size western comic on which I wrote a script. That's what it says on the cover of the written script from 1973 I just recently recovered.
Personally I was very impressed by the gorgeous-looking western comics-albums in the "Blueberry" series by Jean Giraud and some stories with a character called "Red Kelly" by Hermann from the Danish weekly comics magazine "Fart & Tempo" reprinting stuff from the French-Belgian "Tintin" and "Pilote" magazines. From the newspaper Westerns I was especially taken by the robust graphics rendered in "Matt Marriott" and "Jeff Slade".
I even think I did some colouring of the Travers testpages. They were clearly designed to be presented that way, but I haven't been able to locate them yet.
So what I can present here, are the five chapters of that first and only episode. After the first chapter in pictures you will have to imagine the style continued when reading the following part of that script for the first Danish comic potato-western attempt.