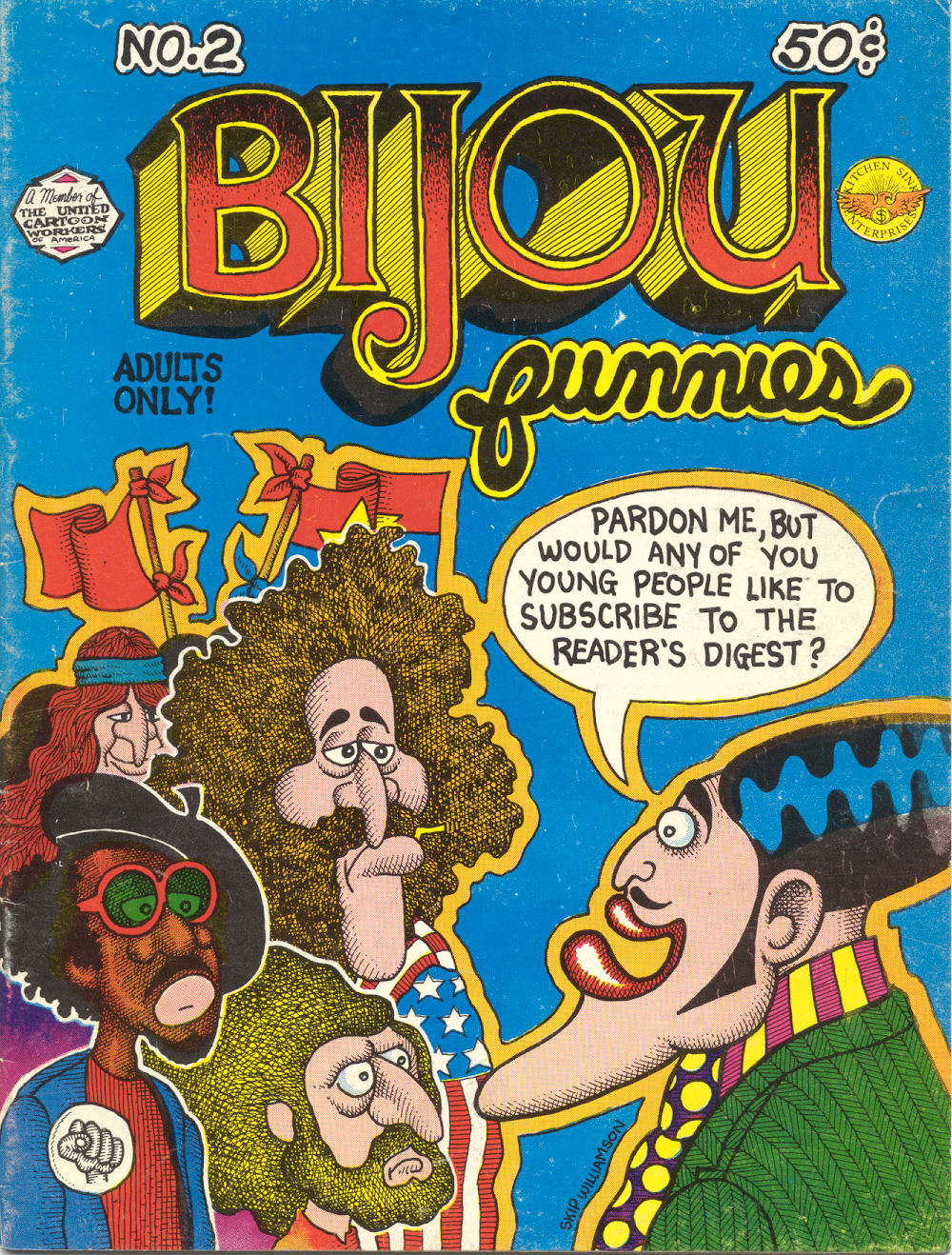 SKIP WILLIAMSON
Mervyn Williamson (19 August 1944 - 16 March 2017, USA) was one of the pioneers of the underground comix movement in the 1960s. He is best known for his satirical comic strip Snappy Sammy Smoot (1968-1996) and was furthermore closely involved with the underground comics magazine Bijou Funnies, as well as the section 'Playboy Funnies' in Hugh Hefner's Playboy. Williamson worked in a fluid, roundish, psychedelic style and was known for his highly political stance. 'Underground comics should be both propaganda and entertainment,' he once said. 'They're effective - the antithesis of rhetoric.' To him comics could be 'subtle and exaggerated at the same time. So, they are a valuable propaganda tool.'
He was born in 1944 as Mervyn Williamson in San Antonio, Texas. His father hailed from Virginia, while his mother had Hispanic/Native American roots. His future career seemed predestined, since his grandmother nicknamed him 'Skip' as a reference to the comics character 'Skippy' from Percy Crosby's eponymous newspaper comic. Comics weren't allowed in Williamson's parental household, which of course made them all the more thrilling. One could state he already took his comics 'underground' then. He often got caught reading and stealing them and was punished for drawing cartoons in his schoolbooks. Even in those days Williamson was something of a rebel. In 1952, during the U.S. presidential elections, he already showed political interest and bravery to be different from the norm despite being only eight years old at the time. While most other children liked Dwight Eisenhower - who'd eventually win the elections - he made a stance by wearing a button promoting his opponent, Adlai Stevenson, and got beaten up for it.
Among his graphic influences were Walt Disney, Tex Avery, Harold Gray, Al Capp, Chester Gould, Harold Foster, Robert Crumb, Jay Lynch and Marcel Duchamp. But like most underground cartoonists Williamson's biggest inspiration were the early issues of Mad Magazine, written and drawn by Harvey Kurtzman and Will Elder. In fact, his graphic career took off after he managed to sell a gag cartoon to Kurtzman's magazine Help! It depicted two trash cans in New Orleans, one reading 'Negro Trash' and the other 'White Crash'. This clever satire on the segregation laws still in effect in most of the United States at the time was picked out by Gloria Steinem, then editor of Help! and later America's most famous feminist. The cartoon received further exposure when African-American comedian Dick Gregory showed it on television while he was a guest of Jack Paar in The Tonight Show.
In one issue of the magazine Cracked, Williamson discovered that the editor had just published a fanzine, Smudge, which offered information about every possible satirical magazine in the United States. He applied for a job in Smudge and got hired as a cartoonist. Many of his later friends, like Jay Lynch and Art Spiegelman, also discovered Smudge the same way. Soon Williamson got actively involved in the fanzine network and published various articles and cartoons in magazines like The Realist, The Idiot, Aardvark, Triad and Don Dohler's Wild! He met many of his future colleagues during this period and even launched his own short-lived magazine, Squire.
Independently published magazines like these eventually created a press outside the mainstream media. They offered news and entertainment which appealed more to young people, including the rising hippie movement. Because of their subversive content these publications couldn't be sold in regular stores and thus had to go 'underground. They were distributed in stores specializing in hippie fashions, gadgets and drugs, the so-called 'head shops'. One of these magazines was The Chicago Mirror, founded by Jay Lynch and Skip Williamson. It featured a lot of satirical articles which unfortunately weren't always recognized as such. One day Lynch invented a story how smoking dog excrement could be used as a substitute for marihuana. To his concern some hippies actually came forward to congratulate him for giving them this tip. Even when Lynch explained it was satire the men still didn't believe it was all meant as a joke. This made them decide to change the format into a comics magazine, because then at least their satire would be a lot clearer. Inspired by Robert Crumb's groundbreaking Zap Comix, Bijou Funnies hit the market in the summer of 1968. It quickly became the second most-read underground comix magazine after Zap.
In the first issue of Bijou Funnies, Williamson's signature character Snappy Sammy Smoot made his debut. Snappy Sammy is a flamboyant man with a large chin, pencil-thin moustache and a curly beehive haircut. He comes from a more old-fashioned, innocent past and thus behaves accordingly. Whatever happens he remains the eternal optimist. Even when confronted with hippies, drugs, angry policemen and activists he never loses his innocent outlook on things, even if he is blissfully unaware or in denial of what really goes on around him. The comics were funny because they lampooned both the politically left as well as the right. Sammy's neighbor, Ragtime Billy, for instance, is an angry ultraconservative rightwinger, while Necropolis Keester is a braindead hippie, completely dependent on drugs. 'Snappy Sammy Smoot' appeared in other magazines as well, like Blab! Comix Book, Zero Zero and National Lampoon.
Snappy Sammy Smoot was one of the few underground comix characters to gain mainstream exposure. The comedy TV show 'Rowan and Martin's Laugh-In' (1968-1973) featured Sammy Smoot as a real-life character in a few sketches, played by Carl Reiner. Snappy Sammy was also a rare example of a 1960s underground comic which survived the hippie era. It kept running on a regular basis until the mid1990s. This gave the character the opportunity to get involved in many other sociological changes, such as born-again Christians and rappers. Other recurring underground features from Williamson were Bozo Rebebo, about an odd monster whose name was a pun on Nixon's confidant Bebe Rebozo, and On the Job, a satirical comic about the magazine publishing business. Williamson was also one of several comics artists, including Robert Crumb, Jay Kinney, Jay Lynch, Jim Mitchell, Peter Loft, Ned Sonntag, Dave Dozier, Wendel Pugh, Dave L. Herring, Bruce Walthers, Dale Kuipers, S. Clay Wilson, Justin Green, Pete Poplaski, Trina Robbins, Art Spiegelman, Evert Geradts, Denis Kitchen, Joel Beck and Bill Grifith to make a graphic contribution to a special 1971 tribute comic book named 'ProJunior', starring Don Dohler's eponymous character.
Skip Williamson was a politically conscious man. He actively joined the protest marches against the Vietnam War, Nixon and for civil rights for African-Americans. He once designed a flyer for some yippies, but it was rejected because it depicted Vice-President Spiro Agnew as a child molester in the Boy Scouts movement. In 1969 a trial was held against 'The Chicago Eight', a group of left-wing anti-Vietnam war activists charged with conspiracy and inciting riots. Williamson and Lynch published a comic book, Conspiracy Capers (1969), to raise funds for the activists' legal defense. The case was controversial, and Lynch had to go through great lengths to actually find anybody in Chicago willing to cash the check with the benefit money. He was forced to sign it over and send it off to Washington D.C. to more kindred spirits. By the time he received everything back in the mail two months had passed by. Even worse: his letter had been opened and inspected. It turned out that the printing shop he had in mind for the job had been visited by two men in suits who'd threatened to put the owner out of business if he dared to published Conspiracy Capers. Nevertheless, 'Conspiracy Capers' did get published and featured graphic contributions by Skip Williamson (who designed the cover), Jay Lynch, Jim Osborne, Baron, Daniel Clyne, Paul David Simon, Jay Kinney, Ralph Reese, Gary Arlington, Rory Hayes, Charles Winans and Art Spiegelman. Skip Williamson attended the Chicago Eight trial as a courtroom artist and sketched the proceedings. The trial itself originally resulted in only five 'guilty' verdicts, but these, too, would later be overturned in a federal court of appeals. As a good friend of the most famous activist on trial, Abbie Hoffman, Williamson not only illustrated the cover of 'Conspiracy Capers' but also of Hoffman's cult book, Steal This Book (1971). He provided art work for Jerry Rubin's equally anarchic 'DO IT! Scenarios of the Revolution' (1970) and 'We Are Everywhere' (1971) too.
Unfortunately, not all trials ended in underground comix' favor. In 1973 the court case 'Miller vs. California' brought forward an official decision by the U.S. Supreme Court to broaden prosecution of 'obscene material', making it nearly impossible to publish and distribute underground magazines with the same amount of freedom. Bijou Funnies, too, called it quits with their eighth and final issue, in which all underground artists took turns spoofing each other's series in the style of Mad Magazine. Skip Williamson took it upon him to parody Robert Crumb's 'Mr. Natural', while his own 'Snappy Sammy Smoot' was lampooned by William Stout.
In 1973 Williamson became the art director of Gallery and of Hustler, one year later. For Gallery he created the column 'The Girl Next Door', in which readers could send in photographs depicting their own girlfriends or wives. His job at Hustler, on the other hand, only lasted a week because Larry Flynt 'drove him crazy'. Williamson was also the main instigator behind the 'Playboy Funnies' (1976), a comics section in Hugh Hefner's Playboy which featured hip, young artists like Lynch and himself, Art Spiegelman, Jay Kinney, Randall Enos, Lou Brooks, Mark Alan Stamaty and Howard Cruse. Naturally he also had comic strips of his own there called Neon Vincent's Massage Parlor and Nu-Wave Romance with Nell 'n' Void. Williamson furthermore survived by publishing comics, cartoons and illustrations in The Chicago Seed, High Times, The Industrial Worker, National Lampoon, The Realist and even the prestigious Encyclopaedia Britannica. In 1977 he drew Halsted Street, a daily newspaper comic for the Chicago Daily News section 'Sidetracks'. 'Halsted Street' centered around a couple, Bosco and Sheila Spoonbread, who tried to make a living in the tough street life of Halsted. The newspaper editors hoped that hiring a well known underground cartoonist like Williamson could bring in more young readers, yet at the same time limited him by keeping the content non-offensive. The artist nevertheless still snuck in satirical jabs at the media, governor James R. Thompson and even the politically left. Naturally this didn't please his bosses, especially when sales kept going down. They reduced the size of the comic, moved it to the back pages and were bothered by the seemingly relevant question whether his protagonists were an interracial couple? 'Halsted Street' was inevitably discontinued soon after. The newspaper itself went bankrupt three months later.
By 1994 Williamson moved to Atlanta, Georgia, and started making politically conscious paintings on large-scale canvases. His works often poke fun at famous politicians like Richard Nixon, Spiro Agnew and Ronald Reagan. Some of these works have been exhibited in various museums and cultural centers all across the United States and Europe as well. He and Jay Lynch were interviewed in John Paul Kinhart's documentary 'Blood, Boobs & Beast' (2007) about Don Dohler. In 2016 Williamson became subject of another documentary by Kinhart named 'Pigheaded' (2016). The underground comix veteran also published an autobiography: 'Spontaneous Combustion' (2011) which, aside from his life story, also offers the most complete overview of his graphic career available. Williamson was an influence on Rod Kierkegaard.
Skip Williamson passed away at the age of 72 on 16 March 2017, after a bad reaction to antibiotics while undergoing treatment for a toe infection in Albany Medical Center. He died only a week and a half after his frequent collaborator Jay Lynch.