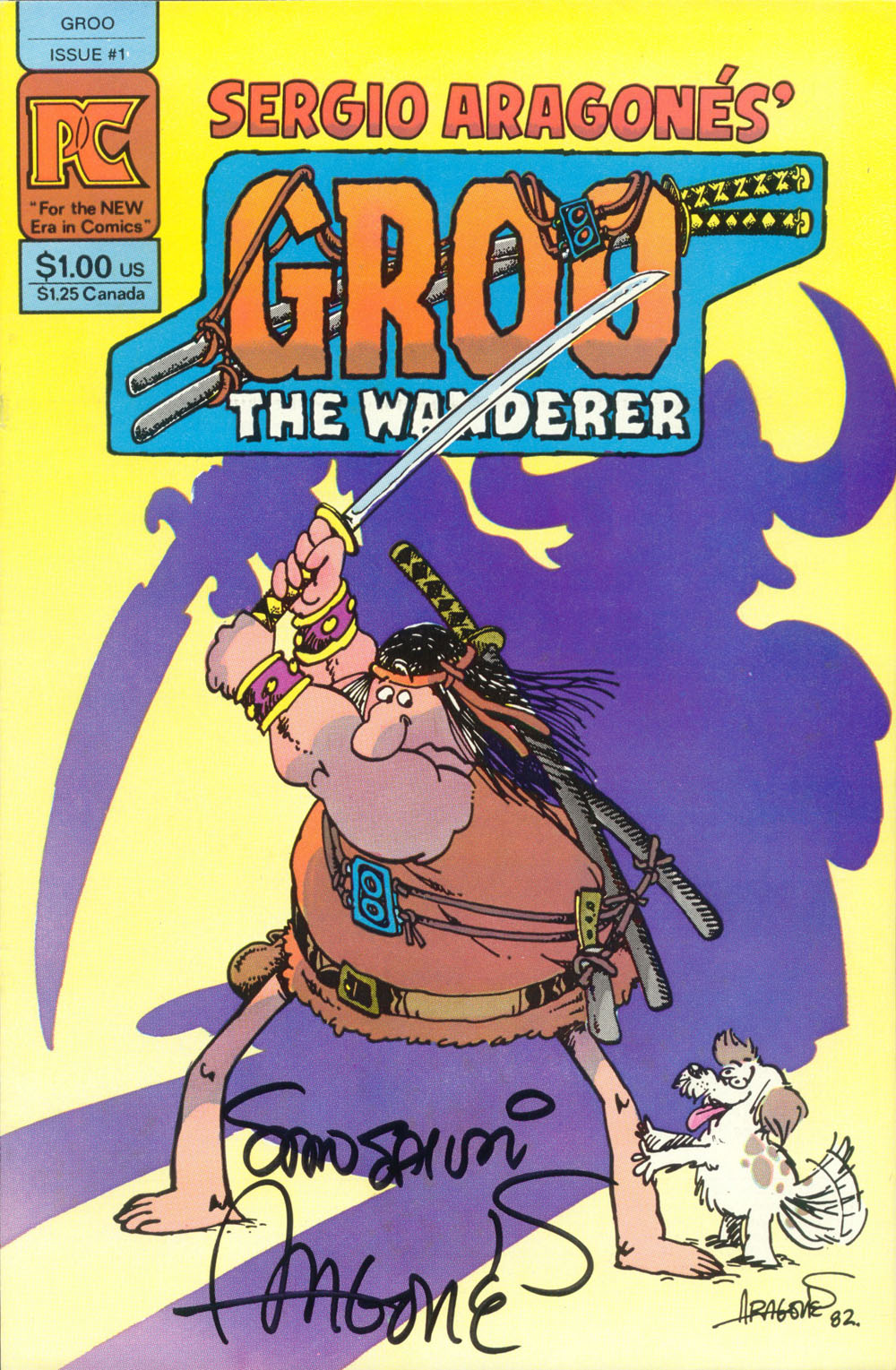 GROO
SERGIO ARAGONÉS
Sergio Aragonés Domenech (born September 6, 1937) is a Spanish/Mexican cartoonist and writer best known for his contributions toMad Magazineand creator of the comic book Groo the Wanderer.
Among his peers and fans, Aragonés is widely regarded as 'the world's fastest cartoonist'. The Comics Journal has described Aragonés as 'one of the most prolific and brilliant cartoonists of his generation'. Mad editor Al Feldstein said: 'He could have drawn the whole magazine if we'd let him'.
Born in San Mateu, Castellón, Spain, Aragonés emigrated with his family to France, due to the Spanish Civil War before settling in Mexico at age 6. Aragonés had a passion for art since early childhood. As one anecdote goes, Aragonés was once left alone in a room by his parents with a box of crayons. His parents returned sometime later to find that he had covered the wall in hundreds upon hundreds of drawings.
Aragonés recalled his early difficulties in Mexico, saying 'I didn't have too many friends because I had just arrived. You're the new kid, and you have an accent. I've always had an accent... When the other kids make fun of you, you don't want to get out of the house, so you stay at home, and what do you do? You take pencils and start drawing'.
Aragonés used his drawing skill to assimilate. 'The earliest money I ever made was with drawings', he remembered. 'The teacher would give us homework, which would consist of copying Chapter Eleven, including the illustrations... a beetle or a plant, the pistil of a flower, or soldiers – that type of thing. All the kids who couldn't draw would leave a square where the drawing was, and I would charge them to draw that. The equivalent of a few pennies... That's probably why I draw so fast, because I drew so many of them'.
Aragonés made his first professional sale in 1954 when a high school classmate submitted his work to a magazine without telling Aragonés about it. He continued to sell gag cartoons to magazines while studying architecture at the University of Mexico, where he also learned pantomime under the direction of Alejandro Jodorowsky. 'I joined the class, not to become a mime but to apply its physical aspects of movement to my comics'.
In 1962, Aragonés moved to the United States. According to the artist, he arrived in New York in 1962 with nothing but 20 dollars and his portfolio of drawings. After working odd jobs around the city, Aragonés went to Mad's offices in Madison Avenue hoping to sell some of his cartoons. 'I didn't think I had anything that belonged in Mad. I didn't have any satire. I didn't have any articles. But everybody was telling me 'Oh, you should go to Mad'.'
Since his knowledge of English wasn't very extensive, he asked for the only Mad artist he knew of that spoke Spanish, Cuban-born artist Antonio Prohías, creator of the comic 'Spy vs. Spy'. Aragonés hoped Prohías could serve as an interpreter between him and the Mad editors. According to Aragonés, this proved to be a mistake, since Prohías knew even less English than he did. Prohías did receive Aragonés very enthusiastically and, with difficulty, introduced the young artist to the Mad editors as 'Sergio, my brother from Mexico', temporarily leading to even further confusion, as the Mad editors thought he was Sergio Prohías'.
Mad editor Al Feldstein and publisher Bill Gaines liked what they saw, and Aragonés became a contributor to the magazine in 1963. His first sale was an assortment of astronaut cartoons, which the editors arranged into a themed article. With the publication of the 500th issue in 2009, Aragonés' work had appeared in 424 issues of Mad, second only to Al Jaffee (451 issues).'They told me, 'Make Mad your home', said Aragonés, 'and I took it literally'.