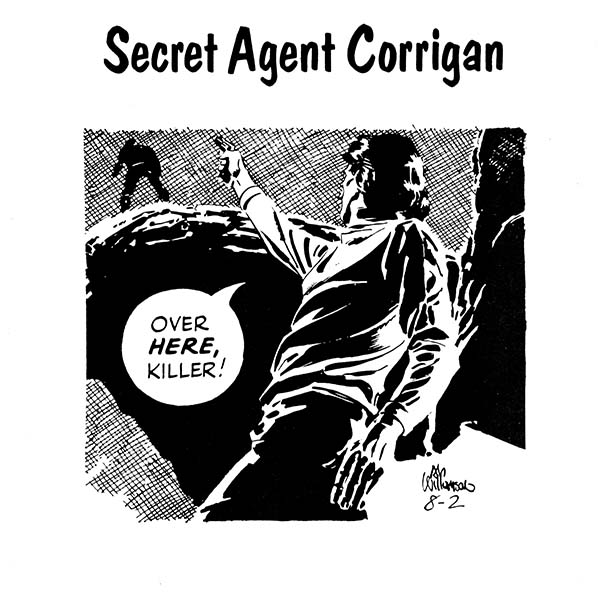 SECRET AGENT CORRIGAN
AL WILLIAMSON
Alfonso 'Al' Williamson (March 21, 1931 – June 12, 2010) was an American cartoonist, comic book artist and illustrator specializing in adventure, western and science-fiction/fantasy.
Born in New York City, he spent much of his early childhood in Bogotá, Colombia before moving back to the United States at the age of 12. In his youth, Williamson developed an interest in comic strips, particularly Alex Raymond's Flash Gordon. He took art classes at Burne Hogarth's Cartoonists and Illustrators School, there befriending future cartoonists Wally Wood and Roy Krenkel, who introduced him to the work of illustrators who had influenced adventure strips. Before long, he was working professionally in the comics industry.
From 1949 to 1951, Williamson worked on science-fiction and Western stories for publishers such as 'American Comics Group' (AGC), 'Avon Publications', 'Fawcett Comics', 'Standard Comics', and, possibly, 'Toby Press'. He began collaborating with Frank Frazetta, who often inked his work; and with Roy Krenkel, who often did backgrounds.
In 1952, upon the suggestion of artists Wally Wood and Joe Orlando, Williamson began working for 'EC Comics', an influential comic book company with a reputation for quality artists. Williamson primarily worked on EC's science fiction comics Weird Science, Weird Fantasy, and Weird Science-Fantasy, illustrating both original stories, primarily by writer Al Feldstein, and adaptations of stories by authors such as Ray Bradbury and Harlan Ellison, but his work occasionally appeared in EC's horror and crime comics as well.
Williamson worked at EC through 1956 until the cancellation of most of the company's line. Williamson's EC art has been lauded for its illustrative flamboyance, evident in such stories as I, Rocket, in Weird Fantasy #20 (Aug. 1953), with Frank Frazetta; and 50 Girls 50, in Weird Science #20, Aug. 1953 by Williamson and Frazetta. His final published EC story was the 10-page A Question of Time, in Shock Illustrated #2, Feb. 1956 with partial inking by Torres, who put his initials on last page.
In the fall of 1956, writer Larry Ivie introduced Williamson to future comics writer-editor Archie Goodwin, with whom he would become friends and, later, a frequent collaborator. Williamson eventually helped Goodwin enter the comics field, having him script a Harvey Comics story, The Hermit, penciled by Reed Crandall and inked by Williamson.
From 1955 to 1957, Williamson produced over 400 pages of three-to-five-page stories for 'Atlas Comics', the 1950s forerunner of 'Marvel Comics', working in various genres but primarily Westerns. He continued to collaborate with Torres and Krenkel, as well as with Gray Morrow, George Woodbridge and Ralph Mayo. With Mayo, one of the first editors to give Williamson work at 'Standard Comics', Williamson collaborated on the jungle girl series Jann of the Jungle #16–17, April and June 1957.
From 1958 to 1959, Williamson worked for 'Harvey Comics' collaborating with former EC artists Reed Crandall, Torres and Krenkel and inking the pencils of Jack Kirby for Race to the Moon #2–3 and Blast-Off #1. Additionally, Williamson drew stories for Classics Illustrated in collaboration with Crandall and Woodbridge; 'Canaveral Press's line of Edgar Rice Burroughs books, inked by Crandall; westerns for 'Dell Comics', and science-fiction stories for 'ACG' including The Vortex in Forbidden Worlds #69, 1958. He also worked with former EC artist John Severin on the American Eagle feature in 'Prize Comics' Western #109 and 113, 1955.
Williamson's work during the decade was his most prolific in terms of comic book work and has garnered considerable praise for its high quality. He has been noted for his perfectionism and love for the medium. Despite its high reputation, it has been remarked that his artwork of this period can at times be uneven and uninspired. Williamson was single during this period and was said to have a bohemian and undisciplined lifestyle.
In 1960, with little work to be found in the comic book field due to a downturn in the industry, he went to work as an assistant to John Prentice on the Alex Raymond-created comic strip Rip Kirby for a three-year period.
He returned to comics in 1965 doing one story each in 'Gold Key Comics' Ripley's Believe It or Not #1 June 1965, The Twilight Zone #12 Aug. 1965 and Boris Karloff Tales of Mystery #11 Sept. 1965 and helped launch 'Warren Publishing's black-and-white horror-comics magazines Creepy and Eerie with several stories in early issues, while contributing to Warren's war comics magazine Blazing Combat.
He was instrumental in recruiting other former EC Comics artists as Frazetta, Krenkel, Torres, Crandall, and Evans, as well as artist Gray Morrow and writer-editor Archie Goodwin.
In 1966, he drew the first issue Sept. 1966 of a new Flash Gordon comic book series, published by 'King Features'. Williamson's work received positive reader response and he returned to draw issues #4–5 March and May 1967, as well as the cover of #3 Jan. 1967. Williamson received a National Cartoonist Society Best Comic Book art award for his work on that title. In 1967, on the strength of a backup feature he had done in the Flash Gordon book, he took over another Alex Raymond creation, the long-running Secret Agent X-9 comic strip, collaborating with writer Goodwin. At the start of their tenure, the title was changed to Secret Agent Corrigan.
Williamson helped assemble the first major book on Alex Raymond's Flash Gordon, published by Nostalgia Press in 1967, and wrote the introduction. In 1969, Wally Wood's alternative-press comic book witzend #1 published Williamson's 'Savage World', a 1956 story originally drawn for a Buster Crabbe comic book that had been cancelled. With significant contributions by Frazetta, Krenkel, and Torres, the story is a prime sample of the Fleagle Gang style and has since been reprinted by 'Marvel Comics' in the black-and-white comics magazine Unknown Worlds of Science Fiction #1, January 1975, 'Pacific Comics' and 'Kitchen Sink Press'. Wood would later write the script for a three-page story drawn by Williamson, 'The Tube', in another alternative-press comic, publisher Flo Steinberg's Big Apple Comix, 1975.
By the end of the decade, Williamson was beginning to encourage younger artists whom he would meet at comic book conventions, helping Bernie Wrightson to enter the comics profession.
Williamson worked on Secret Agent Corrigan through the 1970s until he left the strip in 1980. He returned to 'Warren Publishing' in 1976 and again in 1979 to draw three additional stories in Creepy #83, 86 and 112. He drew a few more stories for 'Gold Key Comics', in Grimm's Ghost Stories #5 and 8 Aug. 1972 and March 1973, and The Twilight Zone #51 Aug. 1973, as well two mystery stories for 'DC Comics', in The Witching Hour #14 May 1971, with inker Carlos Garzon, and House of Mystery #185 April 1970, with Michael Kaluta.
Comics historian Les Daniels noted that 'Williamson's atmospheric technique, which relied on subtle textures as much as hard lines, was not typical of traditional DC art' and that editor Joe Orlando got complaints from the production department' over using Williamson's art. He drew various Flash Gordon illustrations. In the burgeoning fan movement, Williamson became an early subject of comics historians with the publication of Jim Vadeboncoeur's Al Williamson: His Work in 1971 and the Al Williamson Collector by James Van Hise, featured in the fanzine Rocket's Blast Comicollector in the early 1970s. Samples of his sketches appear in various fanzines of the period. Marvel Comics began regularly reprinting Williamson's 1950 Atlas Comics Western stories, starting with The Ringo Kid #1 Jan. 1970 and Kid Colt, Outlaw #147 June 1970, further introducing Williamson's early work to a latter-day generation.
After leaving the Secret Agent Corrigan daily strip, he illustrated The Empire Strikes Back for Marvel Comics' Star Wars movie adaptations with Carlos Garzon, as well as the 50th issue of the monthly Star Wars comic. Williamson was Lucasfilm's first choice as illustrator for the Star Wars newspaper comic strip, a project Williamson had been offered years earlier but had declined to take on at the time. He was offered the Empire Strikes Back adaptation upon Lucasfilm's specific request, as George Lucas had an appreciation of Williamson's EC Comics and Flash Gordon work.
Returning to comic books full-time for the first time since 1959, Williamson began work for 'Pacific Comics', collaborating with writer Bruce Jones for the Alien Worlds title #1, 4, 8, and Cliff Hanger, a six-issue adventure-strip backup feature in the Somerset Holmes miniseries. For 'Marvel', he illustrated the Blade Runner and Return of the Jedi movie adaptations. The two Archie Goodwin stories he illustrated for Epic Illustrated, Relic in issue #27, 1984 and Out of Phase in #34, 1986 have been considered to be some of his finest work, and Williamson himself named Relic as one of his best works. He drew a short story for Timespirits #4 and the full issue of Star Wars #98. For 'DC Comics', he penciled and inked an eight-page story by Elliot S. Maggin for Superman #400 Oct. 1984 and he inked Rick Veitch on the classic, often reprinted the Swamp Thing story The Jungle Line in DC Comics Presents #85 Sept. 1985.
Following the expiration of his contract on the Star Wars newspaper strip, Williamson found that the weight of doing both pencil and inks suddenly became stressful to him, drastically reducing his output. As a response to this, in the mid-1980s Williamson made a successful transition to becoming strictly an inker.
Living in Pennsylvania with his wife Corina, Williamson retired in his seventies and died on June 12, 2010 in Upstate New York. He received a number of awards for his achievements within the comics field.
This presentation is illustrated with daily strips from Secret Agent Corrigan, but examples of his artwork can also be found on this site in Succestegneren in Danish as well as the Jens Lyn/Flash Gordon installments and the EC stories in the Science Fiction theme column.