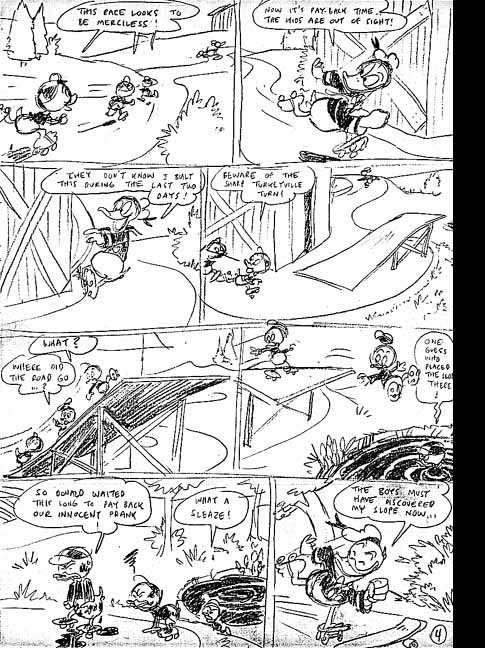 THE ROLLERSKATING CONTEST

This 10 page story was one of the three test stories Gorm
Transgaard and I did together to try to form a team within the Egmont production umbrella in the early nineties.
We did not accepted as such.
Still we thought we had a fine project. Gorm in fact did such elaborate scribbles, that he applied to become an artist.
That plan did not work out either.
However, it was clear to me, that a cooperation between the two of us would have presented a distinct profile in the way of style with an edge to it, so it would have stood out in comparison with most other stuff Egmont produced.
Never paid for The Rollerscarting Contest or Knowing Women, art director Helge Barner kept my original artwork.
Some years later I found out that it had been printed by two different publishing divisions of Egmont, Ehapa in Germany and Sanoma in Finland.
I therefore requested be paid for my work, but Egmont did not accept that.
So the bottom line ended up showing, that a big firm can get away with not paying for submitted material used, even after being made aware of the situation. Furthermore, the files not deleted from the archives, I risk my stories will be reprinted again, all without I am paid for my work. That's the hack artist's conditions, it seems.
Thank heaven I am out of this business now.