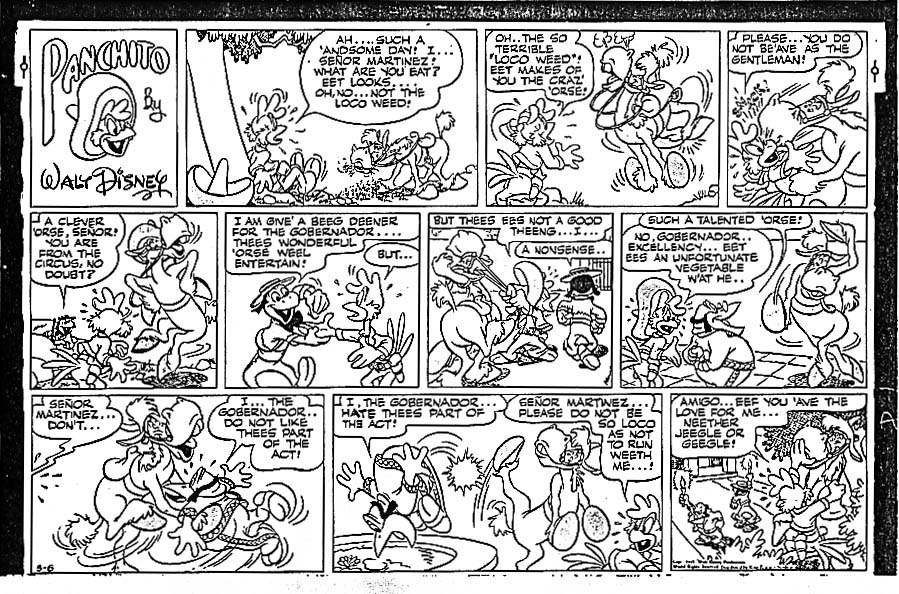 PAUL MURRY
On this homepage I would like to remember some of the most prolific artists who have worked with funny animals and present a few examples of their rendering.
When it comes to Paul Murry you might say, that there is no particular reason to draw special new attention to him, since he is so well known even to this day for his numerous episodes over the years drawing Mickey Mouse, primarily from scripts by Carl Fallberg. I had a weakness for his railroad steam engine design and built my own childhood railroad in the basement in that style.
However there was a period before Murry started drawing stories for Western Publishing, and in my opinion these contributions belong to his best work.
When Paul Murry started drawing Disney comics it was not for the magazine publications, it was for newspaper syndication. And before he turned to the Mickey Mouse strip he had been doing Sunday strips with characters taken from cavalcade films, such as 'Saludos Amigos' and 'Three Caballeros' aimed for the South American movie market during the war, when the audience in Europe had disappeared due to the war situation.
This 'good neighbor' policy did not result in brilliant coherent films, but the Brazilian parrot Jose Carioca and the Mexican rooster Panchito were quite appealing. Murry was set to work with Sunday pages containing humorous situations with these characters and also the Uncle Remus animals from 'Fun and fancy Free' between 1943 and 1946, where he turned to assist on the Mickey Mouse series.
There is some really expressive artwork from Murry's hand in this Second World War period, and a friend of mine has been so kind as to send some copies to me from that period. It is with pride and happiness I use this opportunity to present samples of Murry's newspaper contributions on the following pages.
These comics are to my knowledge almost ignored today, and that is very regrettable. Someone called Paul Murry the Fred Moore of comics. There is a lot of truth in that. When seeing these brilliant pages you will notice one of the most successful artists at work when it comes to transferring lively animated characters into comics.
Some of these copies are made from the material sent out to the newspapers. I have included the black background with the register marks to facilitate the montage of printing films, for which this one is the black/white line art copy. Look and behold. You're in for a treat!