MILTON OR CHAOS
A survey of the dystopian comics through my career

tilbage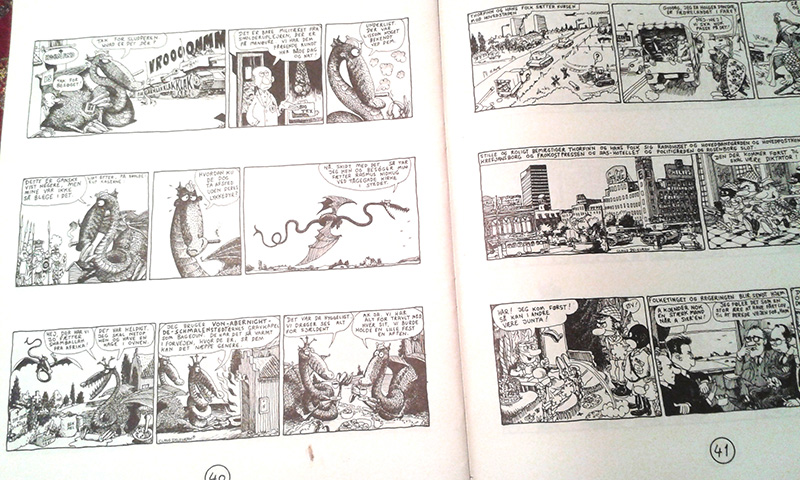 Having concluded my comic drawing career, I recently took a look of what I had accomplished between meals over the last 40 years.
Somewhat surprised I had to acknowledge, that over one third of my stories were actually dystopian tales – stories where things went wrong on a BIG scale, sometimes threatening the very core of society.
How could that be? I must have had a weakness for stories of that nature. I thought back, and true enough there were indications to that in my youth.
I remember a mythological Nordic snake character drawn by the now almost legendary Danish comic artist Claus Deleuran in the second volume of his 'Thorfinn' series. I made a note of that. Maybe I should have a mythological chaos engine in a future comic of mine as well…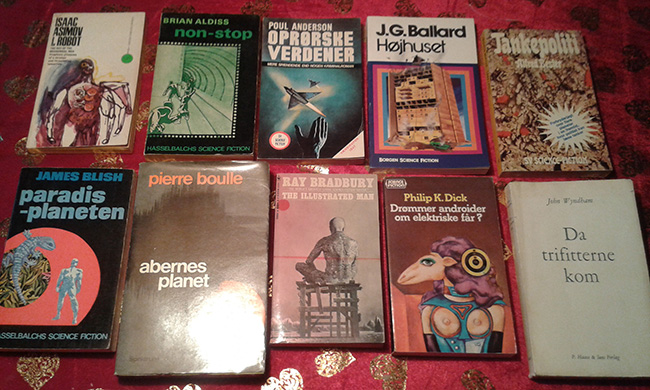 Further inspiration came from my reading science fiction novels in my youth. With a good many titles translated, I also read a number of English language paperbacks. Things often went haywire in those books, so I guess I must admit I was tempted to consume dystopian adventures even then…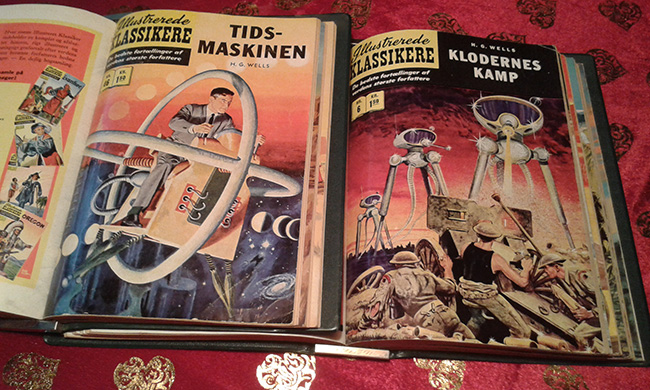 I did not read old science fiction books in their original version. I relied on Classics Illustrated to get a snappy version of the plot, so I avoided the troublesome lingo in the heavy old books. Storyline was paramount to me, not literature. Jules Verne and W G Wells came to me in illustrated form, and 'The Time Machine' and 'War of the Worlds' looked just great printed in the original thin paper version. Together with my brother, I even built a model of the three-legged monster robot from 'War of the Worlds' in the design from that comic. We could not really figure out how to make a model of the time machine…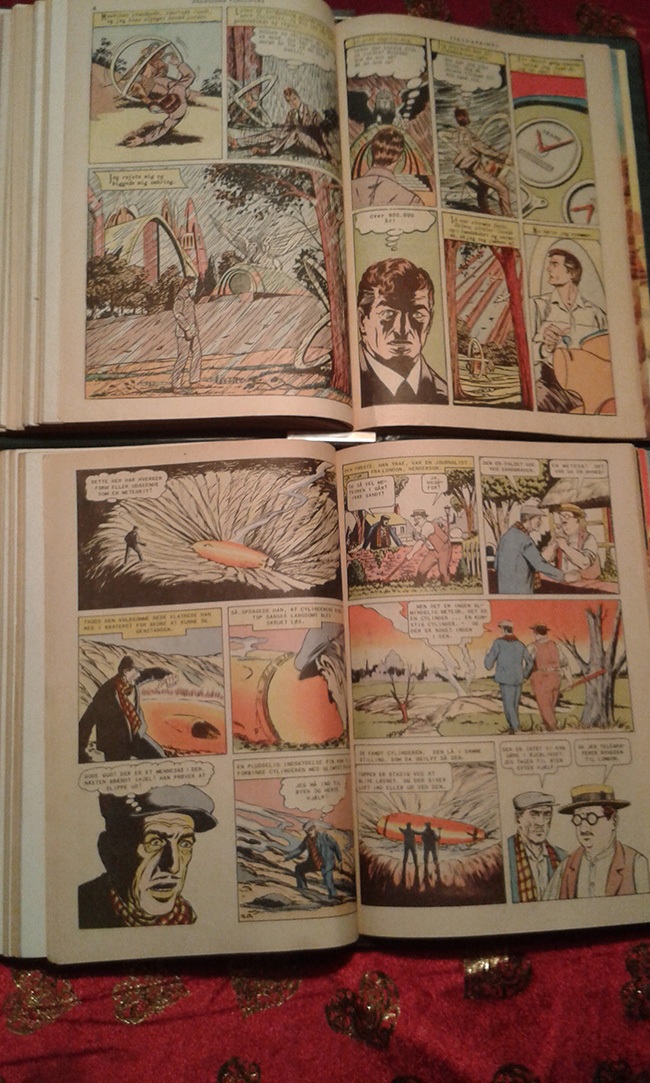 For many years I had it with that unknown artist as with 'The good Artist' Carl Barks when it came to Duck-comics. Only last year I discovered that his name was Lou Cameron, also drawing other notable Classics Illustrated titles such as 'Dr. Jekyll and Mr. Hyde', 'Davy Crockett' and 'The Count of Monte Cristo'. In particular, you can observe his characters' expressive facial looks whenever something frightening happens. I was deeply impressed…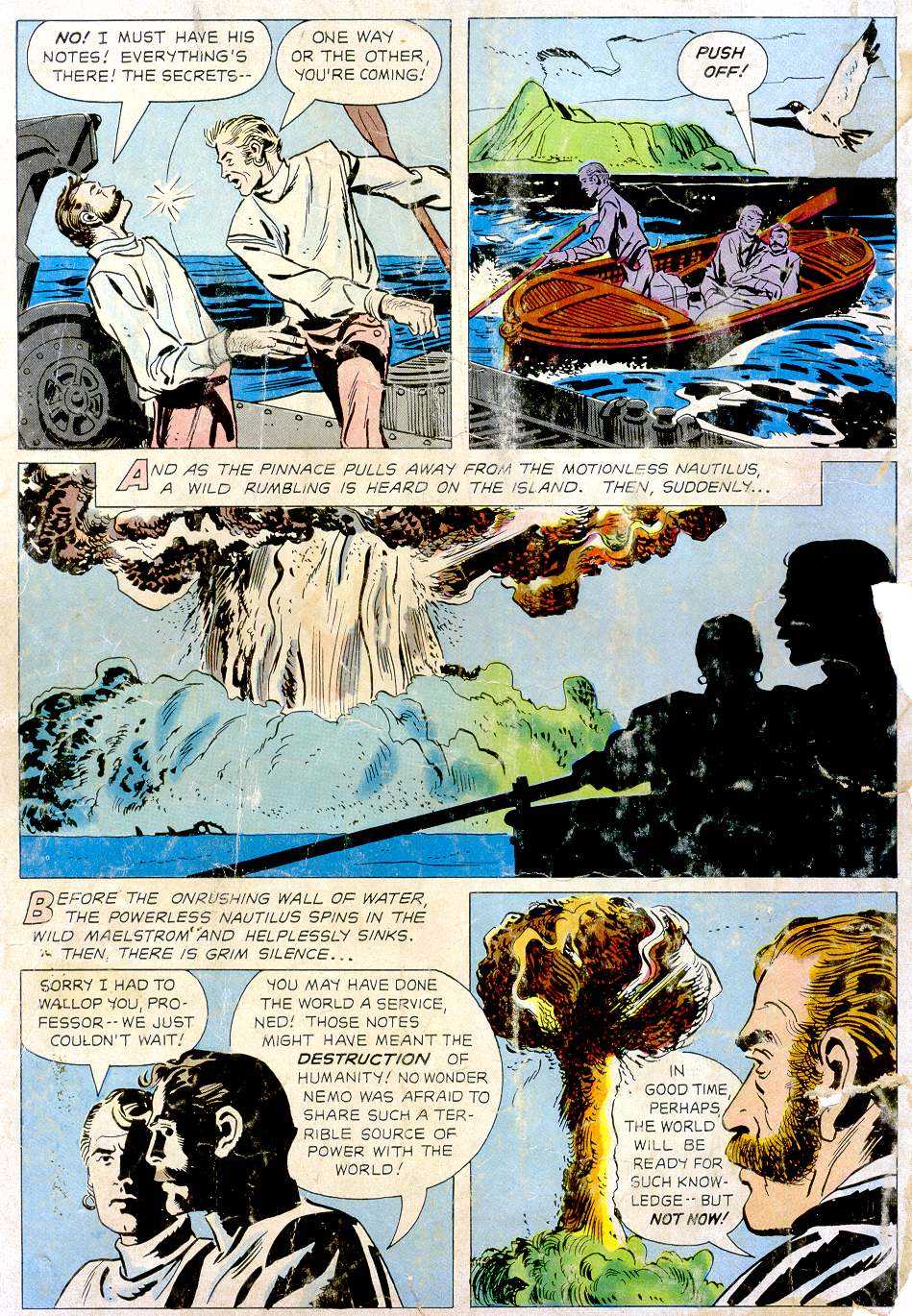 The most prominent book by Jules Verne was '20.000 Leagues under the Sea'. I read that one in the Disney version drawn with gusto by Frank Thorne. I would have liked to watch the movie in the fifties with Kirk Douglas and James Mason, but I could not afford an expensive cinema ticket in those days of my childhood. Together with my brother Ingo, we did build a model of the Nautilus submarine out of cardboard, though…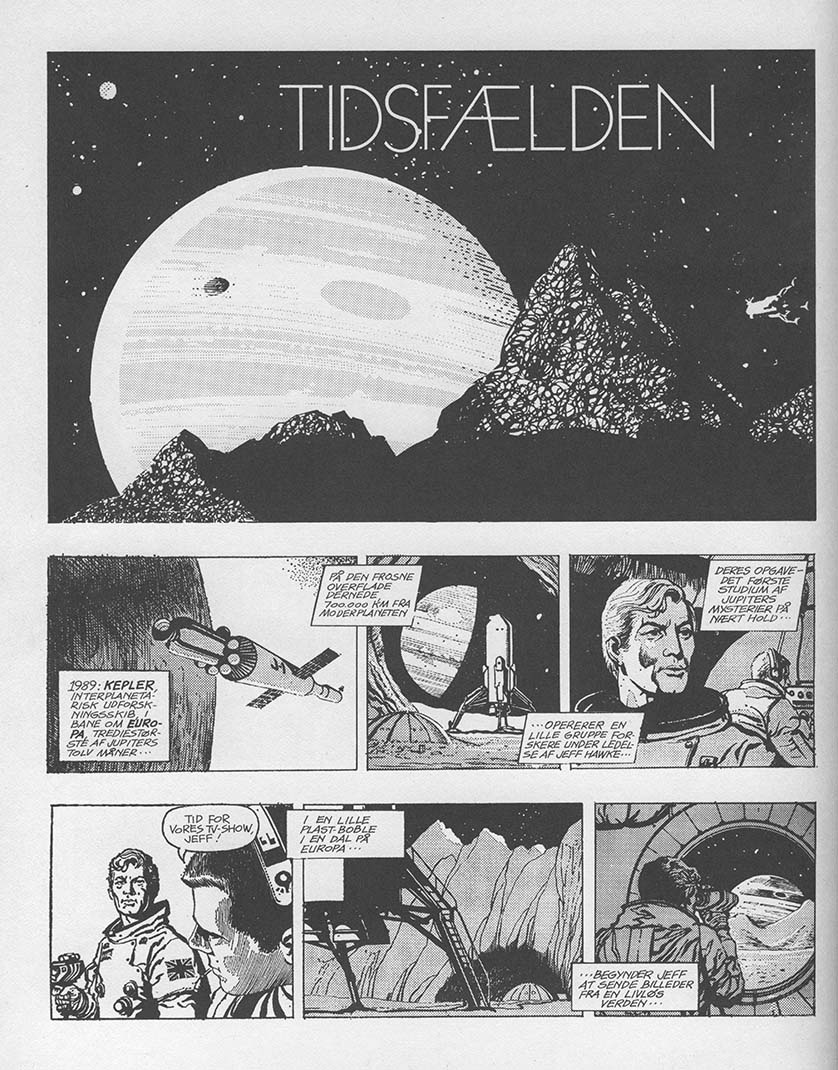 Another science fiction comic leaving a lasting impression on me was Jeff Hawke by Sydney Jordan. Here you had fantasy episodes shifting with very realistic space encounters true to the state of the art space technology of the day. The first men on the Moon was a legendary event in my youth…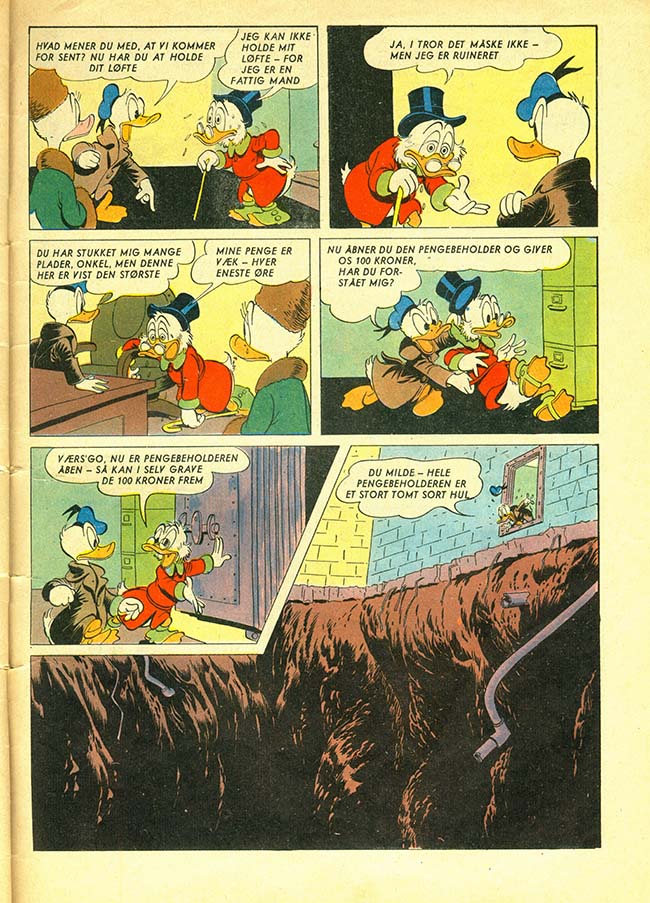 A master of almost everything was Carl Barks. He had frequent dystopian angles to his stories, and the one with all of Scrooge's money falling into a black hole belonged to the finest visions. The humorous twist was of course the kids' useless toy train that in the end rescued his lost trillions, but ever so slowly…
I spend some years in Sweden working for the Semic Press publishers in Sundbyberg. I was later presented in the magazine 'Bild & Bubbla'. Drawing the cover, I used Barks' dystopian vision, only this time it was the comics market falling into oblivion…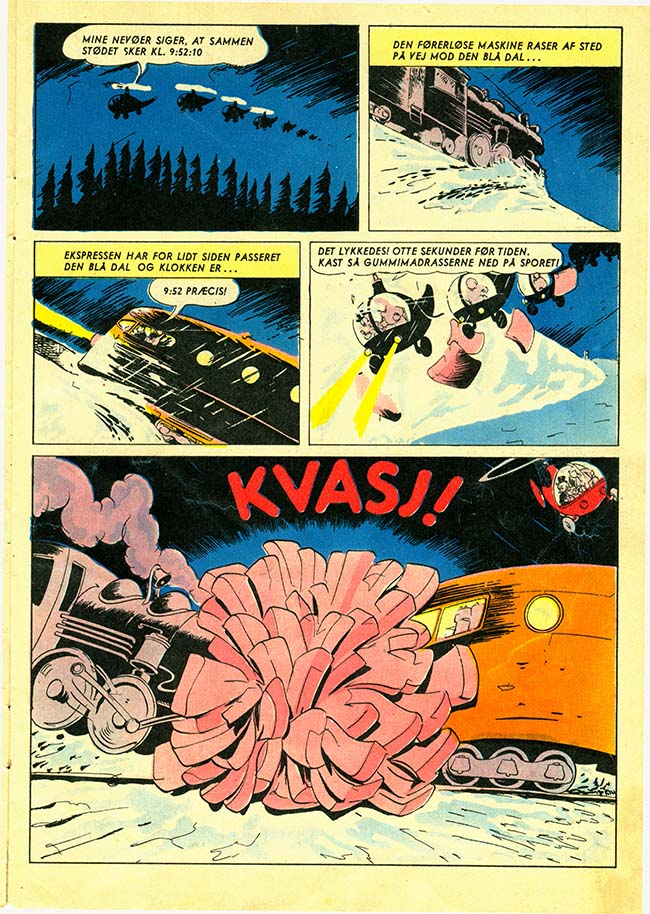 Another Barks chaotic vision heavily impressing me was the 10-pager with the two trains colliding on the same track in stormy weather on a mountainside. The scientist who could calculate the point of collision left in a mountain cabin outside reach of communication here substituted by the clever Woodchucks just performing the same calculations in the living room with their own model trains. Only in real life, there were impact from the wind, the sloping terrain and the slippery tracks. Scrooge in the end procured the lifesaving mattresses. I reread that story many times in sheer awe. I loved model trains, and together with Ingo, we manufactured in the basement a replica of the caricature railroad with Mickey and Goofy made by Carl Fallberg and Paul Murry. Our bulgy hats had Mickey ears and Goofy ears…
In the beginning of the seventies, I simply had to make a dystopian funny animal story myself, just as Barks would have done it. 'No such Varmint' constantly on my mind. I called it 'The Big Sneeze'. I even sent it to him as I had launched a fanzine 'Carl Barks & Co' and come in contact with him and the old master liked my attempt! How happy can you get? So now, after having done a couple of short stories for the local Disney publisher Gutenberghus I presented the 31 page one-shot to them. Was this not an obvious story to print? However, for that total cost the editor, Curt Smed, was able to finance 5-6 shorter stories for the weekly, and he preferred that…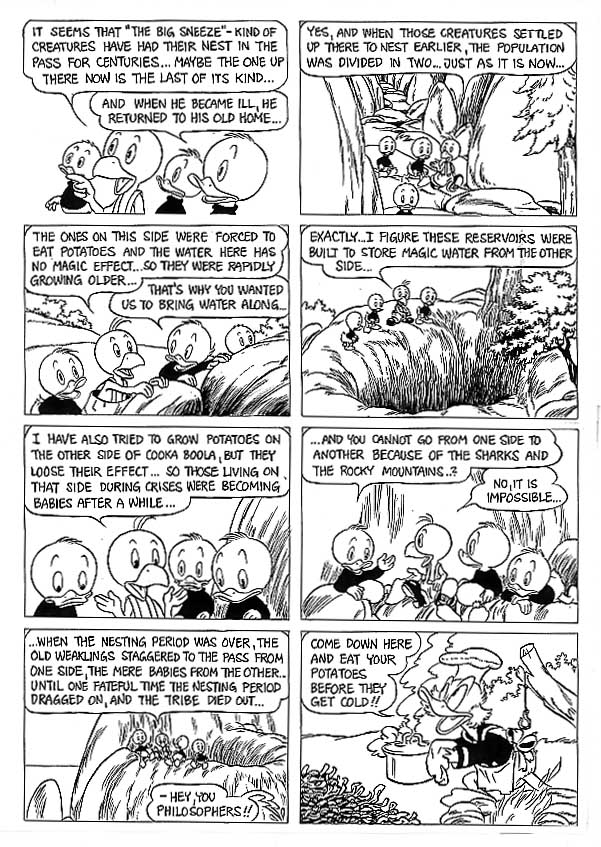 'The Big Sneeze' centered round a dragon having a nesting period in a mountain pass dividing an island, Achoo Achoo, where the population relied on a diet consisting of water from the fountain of youth situated on one side of the island and old man's potatoes growing on the other side. That diet gave them eternal life, until one time when the nesting period dragging out, the people died from growing still younger on the one side and too old on the other side of the island. Something similar almost happens when Donald Duck and the kids shipwrecked on the old age side of the island. The rest of the crew landed on the fountain of youth side. A fantasy idea I was very proud of and still am to this day. Sadly enough, that became my only long epic vision with the ducks…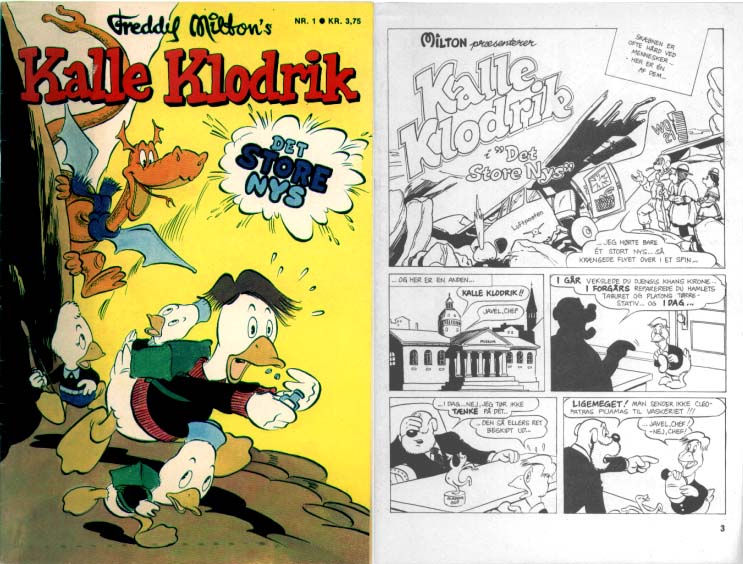 I asked the Danish Donald Duck editor, Curt Smed if I could publish the story changing the design so it was no longer Disney characters, and he granted me permission. I inserted the changes and let the rivalling comics publisher Interpresse do it, telling them that there would be no more stories later.
They did, but some stupid dumbbell placed a 'number one' digit on the cover anyway, suggesting there might be more, contradicting my clear statement that there would be no more coming out. According to law, a responsible editor mentioned in the byline on any publication, but for some odd reason Interpresse forgot that…
Walt Disney Productions of course banned any more issues to appear, but that did not harm Interpresse since no other issues were planned.
However, that fatal 'no. 1' became traumatic to me henceforth blacklisted at Gutenberghus, and recently confirmed I still am to this day, regarded as the disgustful Disney plagiator. Curt Smed did not tell anyone in the Gutenberghus house that he had granted me permission to do that story with different characters…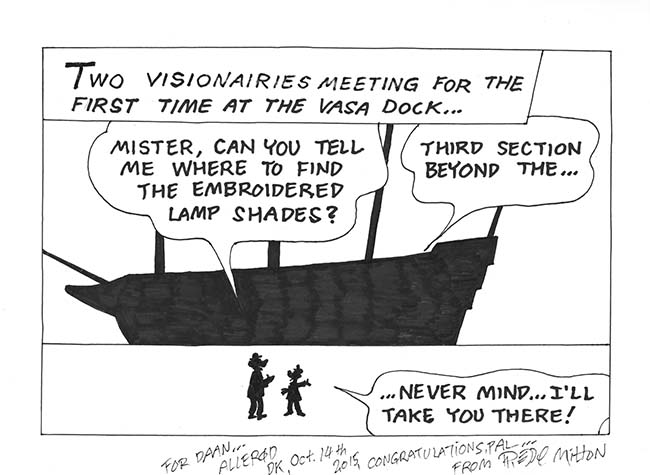 Fate treated me kindly, though. After a few months, I got in contact with a Dutchman, Daan Jippes, who had drawn an album, 'Twee voor Thee' which made me write him a regular fan letter. He appreciated that, and the outcome was, that we came to do Duck stories together for the Dutch Disney office, where he was already working as a free-lancer.
We met face to face in Sweden, where he had a girlfriend at the time, and the backdrop was the impressive Wasa wharf in Södertälje with a 16th century war vessel in restoration. For his 70th birthday October 14. 2015 I sent Daan a congratulation drawing with a Barks quotation on it. Could he guess the reference? He could, taken of course from the conclusion of 'The Golden Helmet'…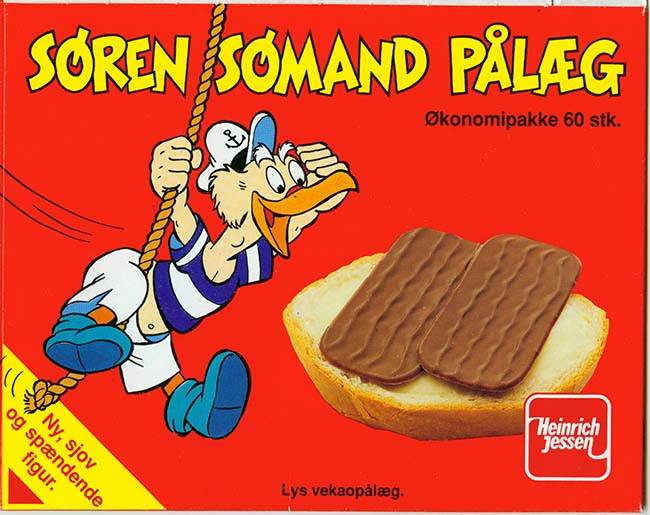 My troubles with Disney had not ended. A Danish chocolate manufacturer Heinrich Jessen had used Donald Duck on their sandwich product for decades, but then Nestlé bought all food article rights using Disney characters, and undeniable chocolate is a food article.
Having paid all duties over the years Heinrich Jessen still lost the license, so they had to find a substitute. Could I dream up a workable character to take over?
I did, and 'Søren Sømand' was born. Not to risk anything, the advertising agency did not want any more trouble, so I got a contract like Disney, where I was the owner paid a royalty each year for the use of my fowl. Rather special in that business, but so it was. I did not imagine the risk involved in that arrangement.
Disney, however, thought Søren Sømand was a takeoff on a supporting Disney character from Moby Duck, but it seemed preposterous. However, Disney is legendary for threatening anyone into submission by the sheer prospect of long winding expensive lawsuits, so most opponents withdraw from legal conflict because they cannot afford it. Money rules.
I was left with the scare, though, since the new Anders And product from Nestlé was more expensive (being genuine chocolate and not the cheaper vecao substitute) so it did not sell as much as expected, and since there was no big money at stake, the urge to launch a lawsuit dwindled… Once more, I escaped as a free fowl…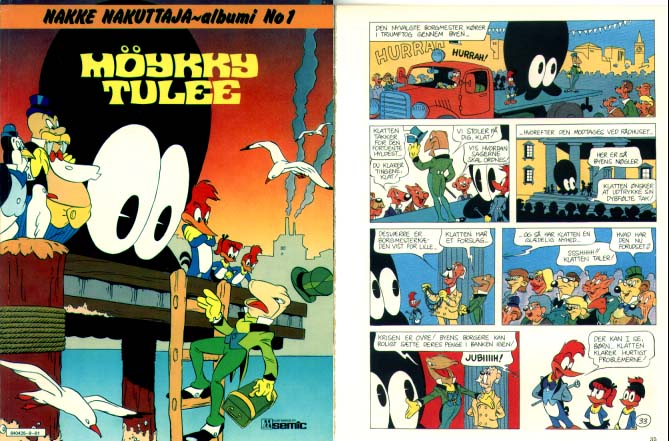 My career with Interpresse did not fall flat after Kalle Klodrik. I came to translate many comic albums and editor, Henning Kure managed to launch an initiative with new production of comic albums with the American funny animal from Walter Lantz, Woody Woodpecker.
Now I was in a grand situation. I could do what Barks did, when he started out with only a handful of ducks, around which he built a complete universe with Duckburg and all. Great challenge. I went to work with enthusiasm, and Dutch Disney did not frown that I also worked with characters from a competitive firm. Gutenberghus would have demanded me a company man, if I had continued working with them. Now I developed Peckburg, and a prolific new character there was my own Phineas Phrogg. 'The coming of the Blot' was partly inspired by Spielberg's E.T. but here the creature from outer space came to have extreme influence upon Peckburg, due to the phony mindreading act of my frog character…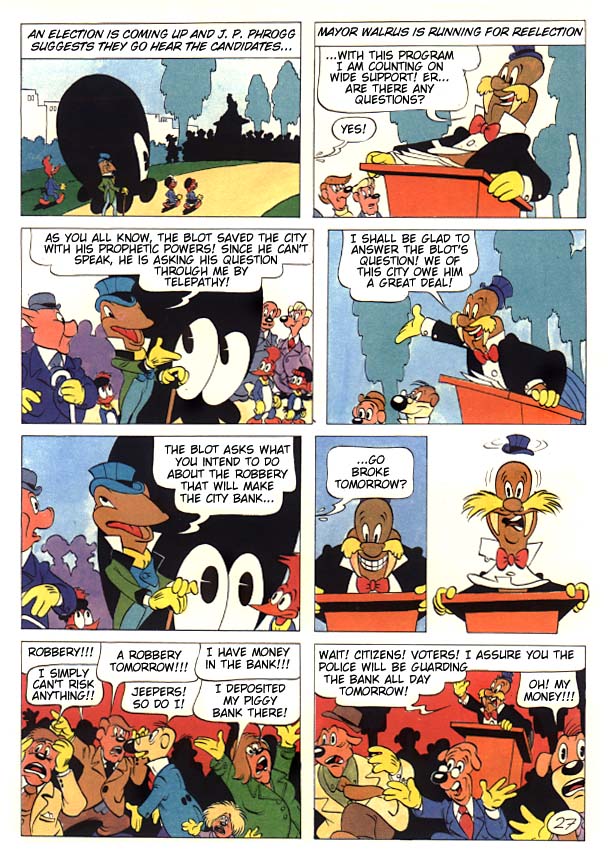 A pivoting point in the Blot album is the prediction of the bankruptcy of the City Bank, which indeed go bankrupt the following day. So much for the mechanisms of self-fulfilling prophecies. The blot does not amount to any actions on its own, only the swindle act of Phineas Phrogg blowing everything out of proportion to benefit his plan. My American friend Dwight Decker said 'Never has Woody Woodpecker looked better'…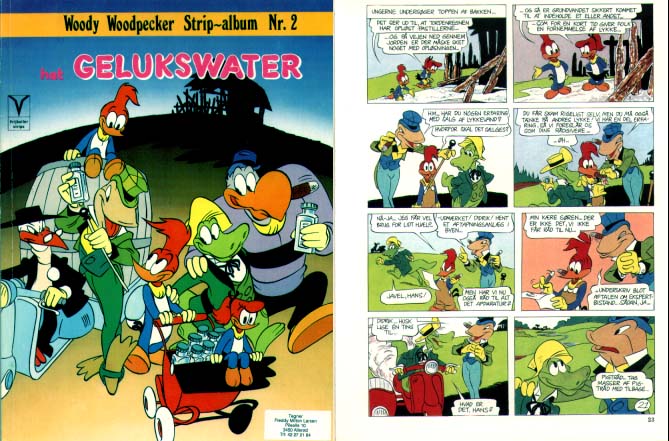 The second album with Woody 'The Happy Water' is my disaster story on the use of narcotics. Only you cannot use narcotics in a fairy tale, so I had to invent something more acceptable, such as a drug made from licorice drops undergoing a metamorphosis due to a violent storm and some substances seeping through the ground. Before long, we have a regular prohibition angle overlying the concept…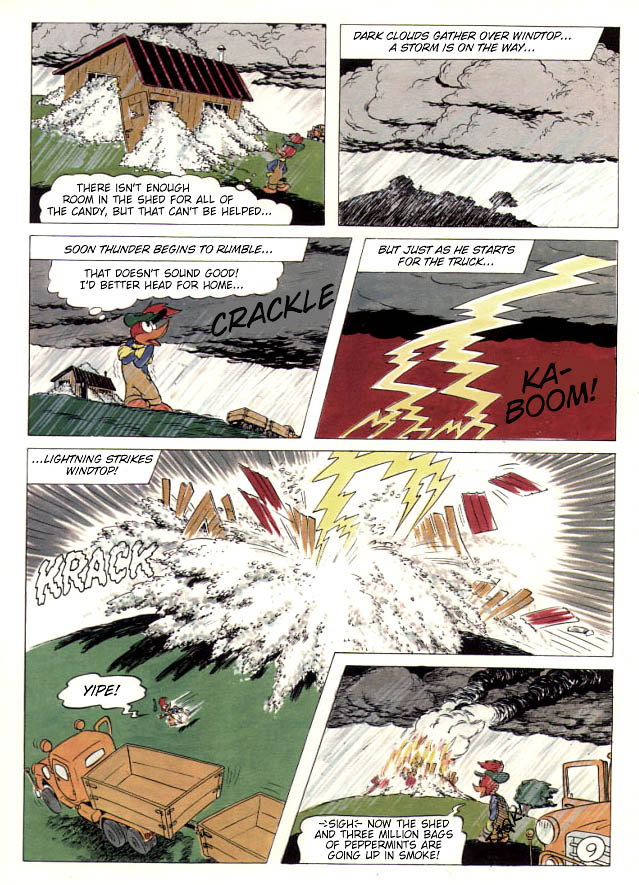 By mistake, Woody produces too many licorice drops at his new job, and getting rid of all the drops threatening to disrupt the balance on the drops market, he drives the truckload out to his summer cabin where a lightning strikes, and the licorice seeps into the ground miraculously turning the water into a drug making everybody happy. That is as far as you can get in allusion to using narcotics and spirits. Competing producers Phineas Phrogg and Buzz Buzzard set the town on end until the happy water boom gets spoiled by the kids splashing a barrel of cod liver oil into the magic fountain of happiness. Another Lantz character, Gabby Gator, has a role as Buzz Buzzards partner.
The third disaster story with Woody Woodpecker is a story with tourists from the West deprived of their urge for exotic travel adventures with the true existence of the native population revealed to them. This story first published as installments in the Scandinavian Woody Woodpecker comic books and later compiled as an album. I was supposed to do single stories but managed making them in a way later combined into album length adventures…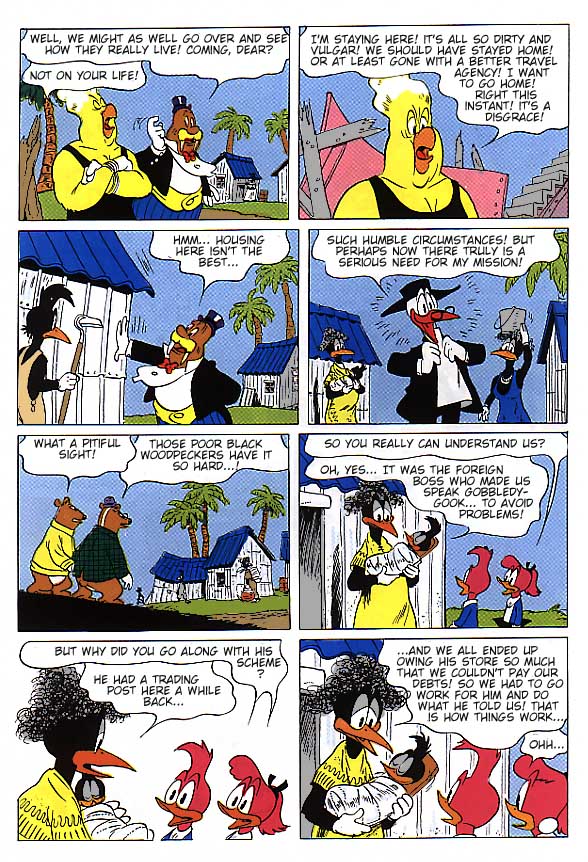 Phineas Phrogg is starring as a manager behind the exotic tourist con act and Buzz Buzzard is the pilot flying the worn down charter plane to the phony tourist paradise. Woody only get to see the whole picture when he himself turned into a black woodpecker… A supporting role carried by the preacher man from last album here seeing an opportunity to salvage the poor unbelievers on the island. My satirical angle to all religious activities…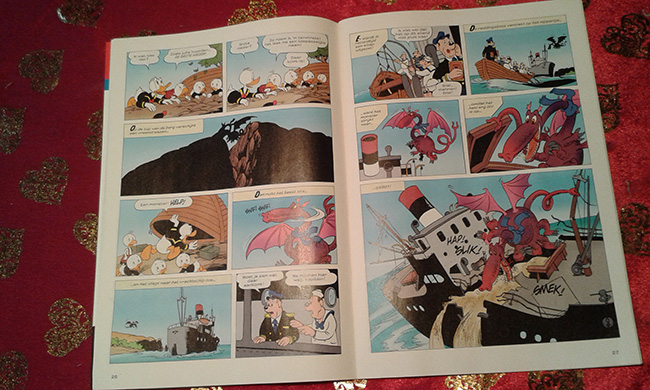 The Duck version of 'The Big Sneeze' did eventually see print in Holland, where it compensated for a mistakenly double payment of a 10 page story. Since the story was longer, the editor promised it not reprinted for that meager payment. That worked until some month before his retirement in 2014, and I complained about it. A compensation allowed my drawing two conclusive duck stories for the Dutch office being my last job with the ducks. Payment for 'The Big Sneeze' eventually came, since I sold some better line proofs for the reuse in Finland making the payment balance even. Later interest for reprints in Germany and USA has spawned, now 40 years after I conceived it… A fan pointed out a flaw in the storyline. The characters setting out to salvage the castaways on the other side of the island do actually not know there are persons to salvage there. That doubt should have been reflected in a bubble.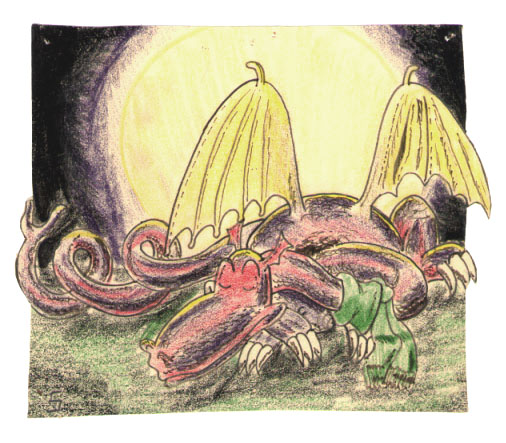 My only fan drawing done on my chaos dragon from 'The Big Sneeze' by Stefan Fjeldmark he presented to me when we shared work place in the Gimle studios in Copenhagen. He was working with a comic version of 'The Snow Queen' by H C Andersen. Later he came to be a prolific member of the A-film crew producing spectacular animation films for a number of years…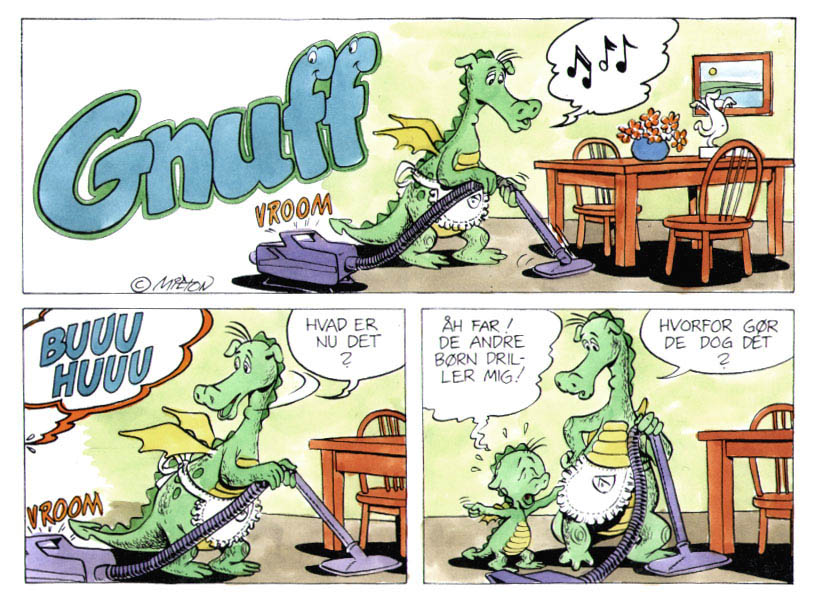 During my stay in Sweden, there were plans for a series with my dragons launched in a new children comic book series with Scandinavian material. It did not come to be, but in an issue of my magazine 'Sejd' I introduced the first design of more domestic dragons…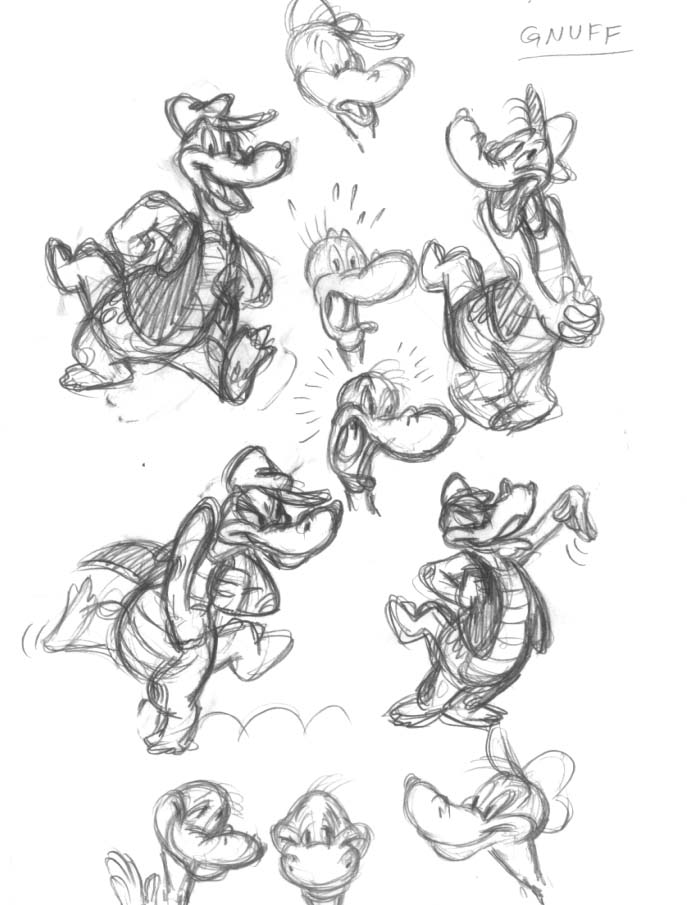 I realized that if my ambition of doing a new funny animal series with the Gnuffs should become a success, I had to work with the modelling of the characters, so I intensified the polishing of the design for an upcoming premiere…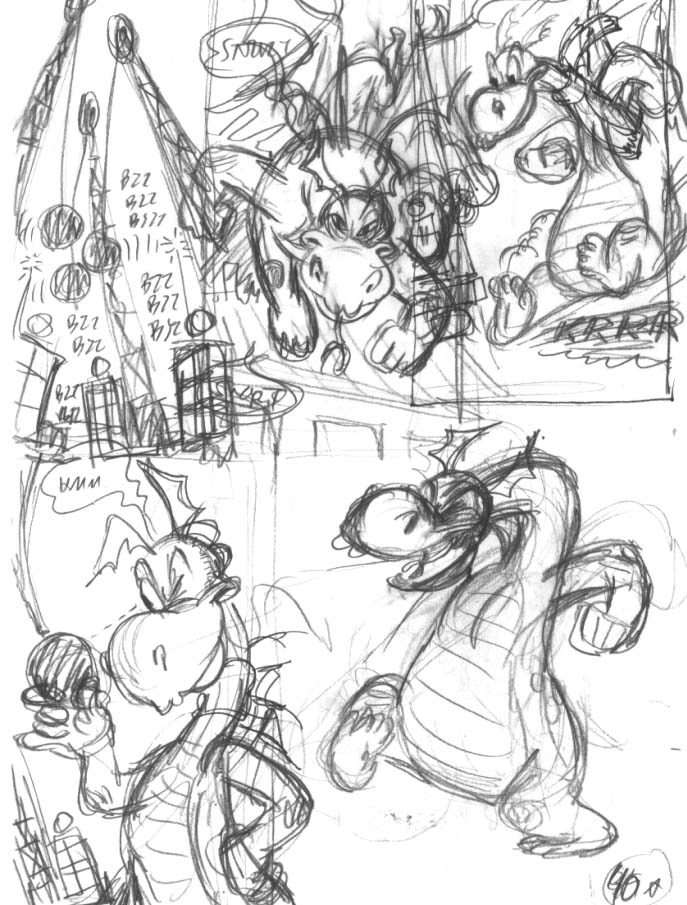 This is some scetches from one of the last pages in the first album 'Trouble on George Street'. The chaos power dragon has now gotten a name, Gargantua, and the number of limbs reduced from six to four. The tail is shorter and the color is now green. However, she is still a considerable threat to society when awakened from her meditation in the attic of the house where the Gnuffs are living after arriving at the big city coming from the Big Woods…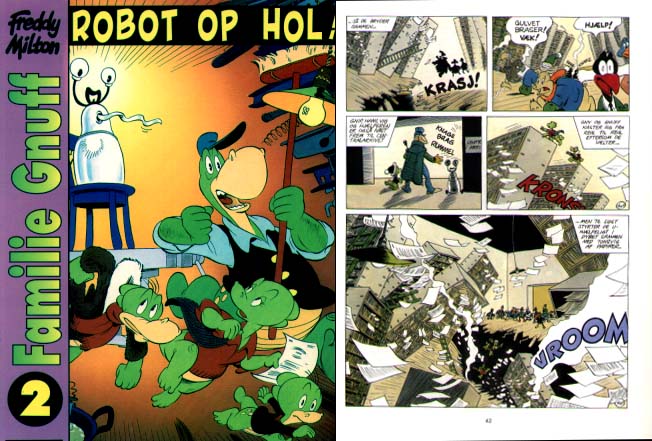 Launching the Gnuffs I was worried Disney would come down on me once more claiming that I had been guilty of some new plagiarism case. Fortunately, that did not happen, and today I am of course happy that all of my Gnuff ideas not censored and produced as duck stories. Some would even have been no-no within the restrictive Disney framework. Just reprinting 'The big Sneeze' in the US cause severe trouble concerning reference to smoking and drinking as well as the use of medication, as Donald is consuming pills along the way. No, I would have had big trouble with Disney.
'Trouble on George Street' is the first album with the Gnuffs. It is the first part of a double feature presentation where 'The Great Technowhiz' is the second part. It lingered a while before co-printing, since albums did not sell that well in the rest of Scandinavia, in fact they never really did, the market there based on cheaply printed material with unsold issues sent to the paper mill automatically like newspapers and that sort of cheap publications. Albums are too expensive for that kind of handling…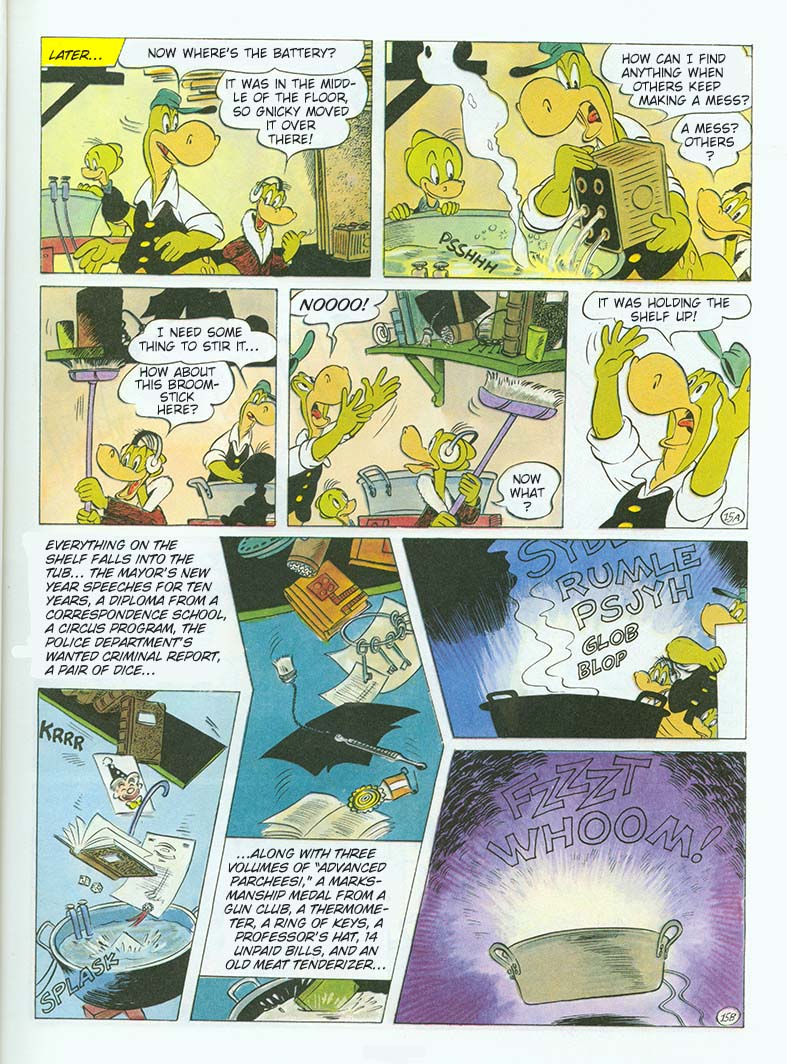 I am very proud of this dystopian vision possibly being my best with comics. Done in 1979 it foresees the upcoming development with the digital age dominating our very life. Few saw that coming late in the seventies, but I did so by imaging a machine being able to store immense amounts of information and analyze and handle it and ultimately suggest solutions to the city administration…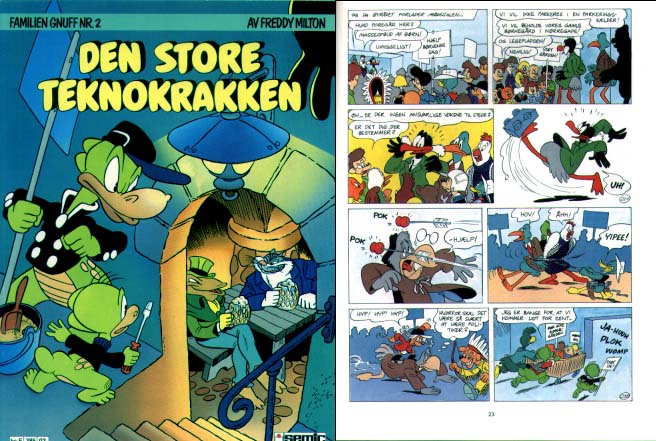 'The Great Technowhiz' is the conclusion on my disaster story, where the former now improved vacuum cleaner dominates every aspect of city life and actually working as a Big Brother watching you… Naturally, Phineas Phrogg also sees his way to benefit from that situation to serve his personal interests…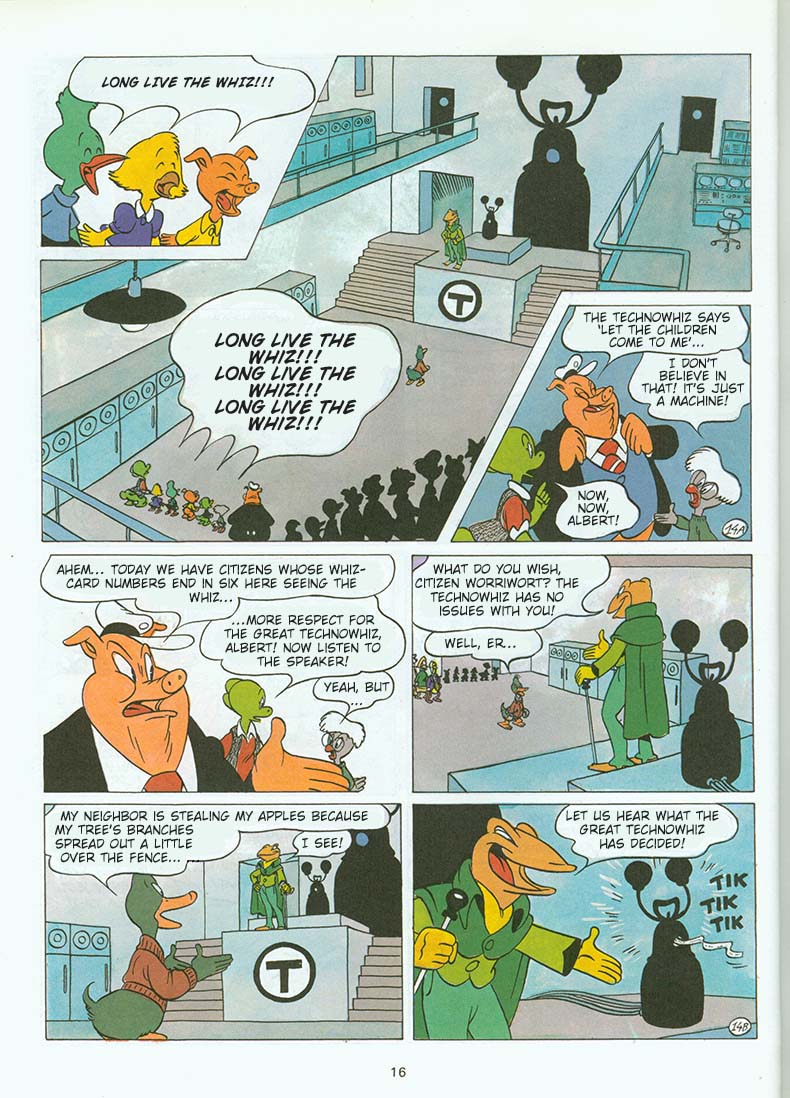 The second album presents an impressive scene with children from kindergarten brought in to hail The Great Technowhiz. Also, people line up to get a solution to their personal problems. The calculating devise has now risen to a notably status with everyone submitting to the rule of that machine. This is a story executed in 1980 before anyone expected computers to dominate our world and depriving us of privacy…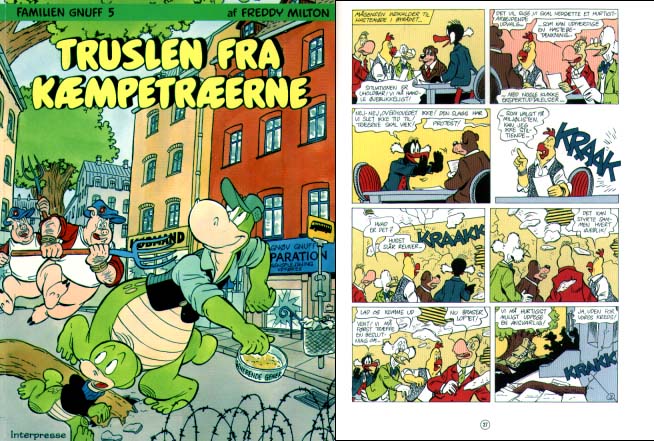 Later on, I had a theme in the Woody Woodpecker magazine about the threat from giant carbon age trees. If Spielberg could postulate dinosaurs coming alive, it would be no big deal to let old trees thrive today, where there is no threat to them. The Gnuffs are fighting that threat to the city and those episodes were alternating with those of Woody facing a similar problem…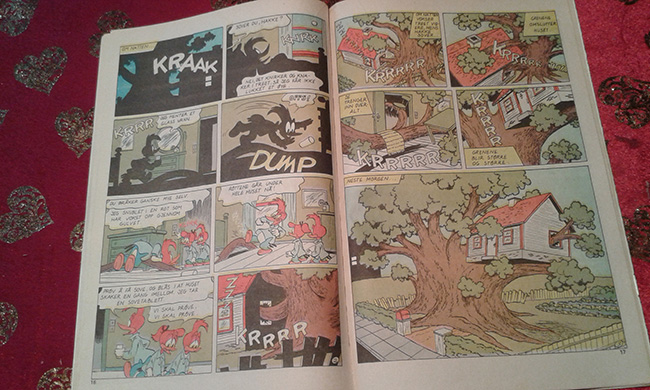 In between the Gnuff installments Woody confronted by one single carbon age tree, which seems a natural opponent since indeed he is a woodpecker. I could then have that running theme on trees going for eight issues, where you could really get around every possible angle this theme offers. A privilege doing a complete 96 pages story that Carl Barks did not experience during his career.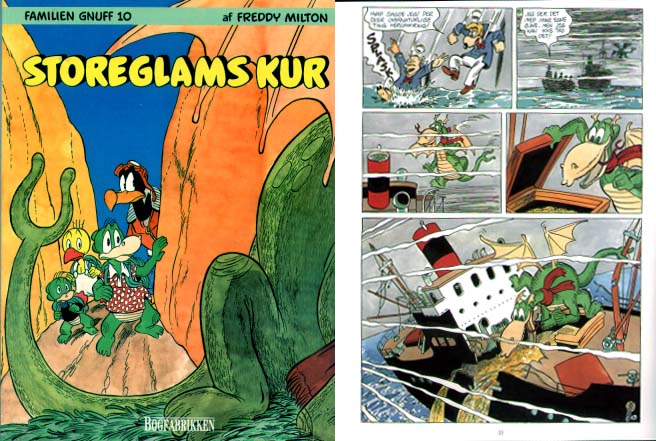 Finally, I published the Gnuff version of 'The Big Sneeze' now named 'Gargantua's Cure'. I had expanded it 50% varying the storyline. That version made for the US funny animal monthly called 'Critters' that Kim Thompson from Fantagraphics issued over some years. As I had also made a Woody Woodpecker version in the meantime I ended up with four versions of that story. In an interview, Kim commented 'You certainly got a lot of mileage out of that one!'…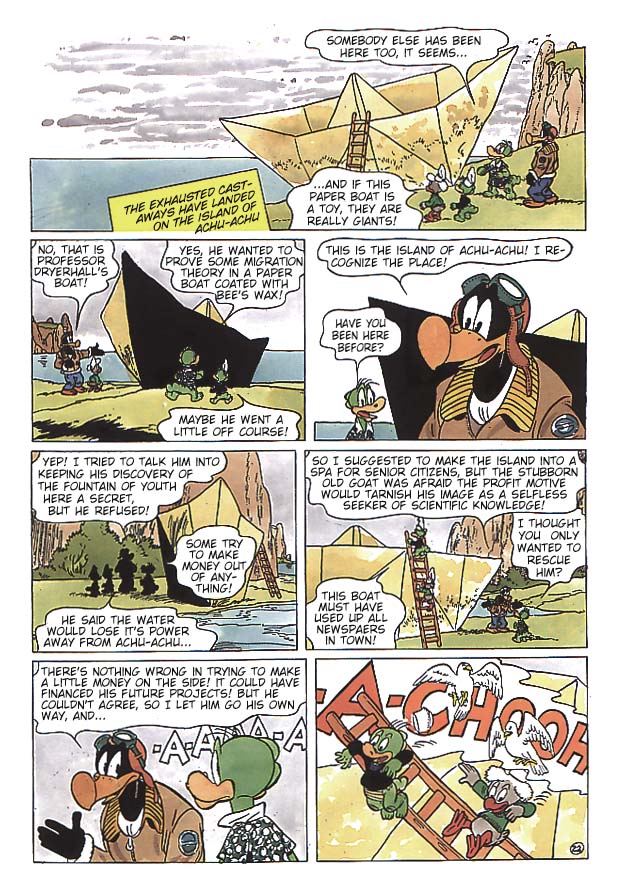 One story element I managed to expand was the role of the adventurer Dryerhall. As with the Norwegian model for this colorful character, Dryerhall here obsessed by sailing over the seas in boats made from light material indicating possible migration routes in the past. The real life Thor Heyerdal could never leave be his worldwide success from the 50'es sailing over the Pacific Ocean with his balsa raft Kontiki…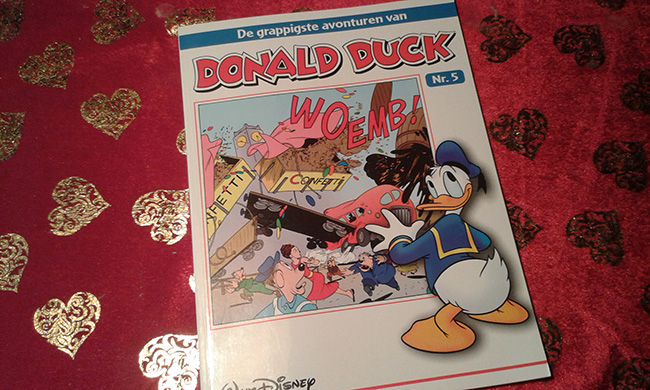 Even though 'The Big Sneeze' remaining my only long story with Donald Duck and in every respect a 'One shot', I came to do some fine 10 page stories with that character, the best of which were executed together with Daan Jippes. The most prolific disaster story was 'A Clean Case of Competence' where Donald bungling things in the town hall clock confuse the time table in different parts of town enabling our own version of colliding trains. Here the focal point is the load of the trains, and we figured a vision of people drenched in molasses and confetti would look hilarious, so that was what we did…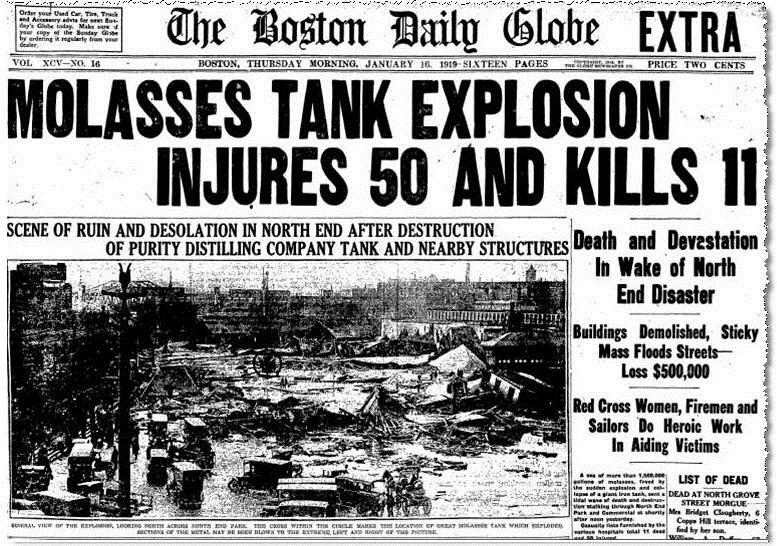 Many years later receiving a mail asking if our story inspired by the Boston Molasses Disaster, that came as a surprise to me. 'Absolutely not', I answered. The fan enclosed a clipping from a newspaper back then, and sure enough, a tank with molasses had exploded killing a number of people. That was a chock taking some of the fun out of my concept. For once, I came decades after the real world with a vision. The story also stood out as the only one the two of us executed being physically together. Daan visited me in Viborg and during two weeks, we did that story in a close cooperation. The other stories made through the mail…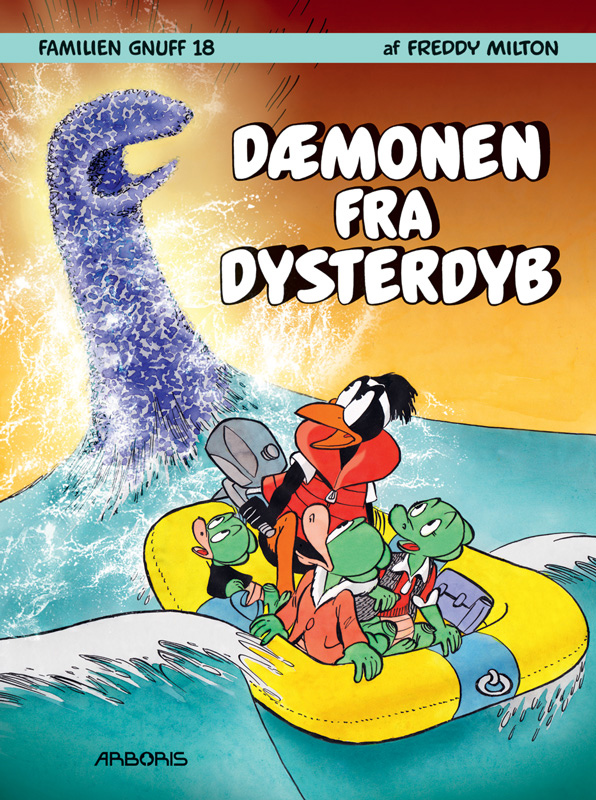 The final album with the Gnuffs was also a disaster story. Gnuff runs the local water cleaning works but he does not let the polluted stuff from Bossmans chemical industries pass. He collects the waste and it causes trouble when he brings some barrels into the town hall building in the middle of a meeting on the problems of handling environmental threats. Chairman Siegel saves the situation by a hair and he talks Gnuff into bringing the barrels out and dump them in open water. To do that he offers him the use of the Seagull, a yacht he has got as a bribe from Bossman for obtaining a permit to let polluting waste out in the stream passing Peckburg. The yacht resemblances The Cormoran from the Bernard Prince series, and during an evening dinner at a comics festival Hermann Huppen permitted me reuse that boat, since I needed a vessel seen from many angles. Out at sea, the Gnuffs discover a monster created from all the waste people have dumped there, a homage to Barks, who earlier created a similar monster. In my story, I also have a more horrible monster further out to sea made from nuclear waste…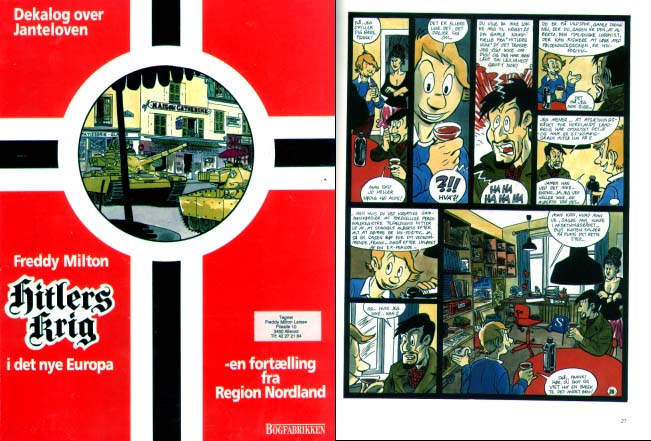 A Polish filmmaker, Kieslowski had made a series of short films on the 10 commandments from the bible. In Denmark, we have a humorous version of 10 commandments summing up the morale that you should not believe you amount to anything at all in life. I made an album series on that Decalogue adding one more album on the penalty commandment 'Don't you ever believe we don't know anything about you!'
The first album was inspired by a board game called 'Hitler's War' which some of my studio members were playing at the time. I also had watched the film 'Wargames' and put together I had a vision of a possible remake of the Second World War, where computer orders went out from the EU headquarters in Brussels setting European military units in motion…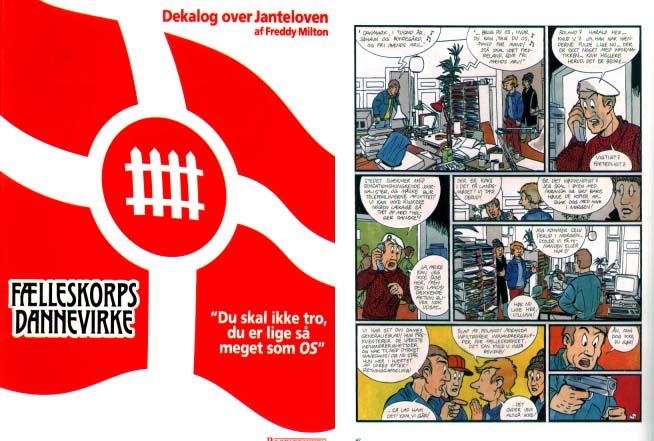 An album in the Decalogue series focused on a possible right wing conspiracy threatening the rule in Denmark. Inspired by an existing subversive group having a secret headquarter and weapons depot in an apartment in Blekingegade in Copenhagen, I used the locations from our comics studio in Husumgade as a backdrop for my revolting group…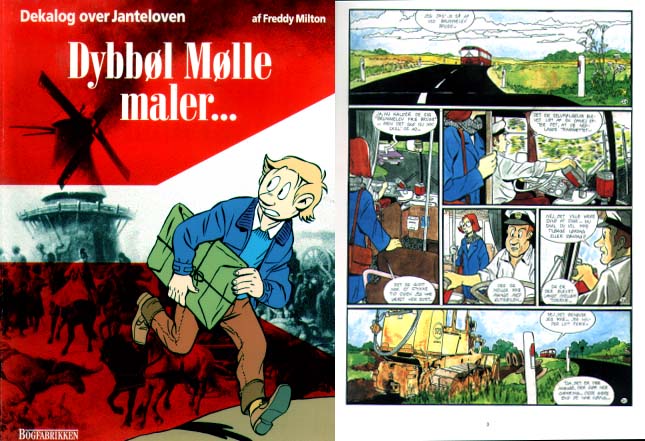 Another threat to the established order was 'Dybbøl Mølle maler…' It was inspired from an old British Ealing comedy 'Passport to Pimlico' where a part of London discover an old document stating that they are granted independence in government, and that document had not been nullified. In my version a similar document indicates, that a certain shire in Denmark can withdraw from membership of the EU and so they do, causing some trouble in Denmark and the EU…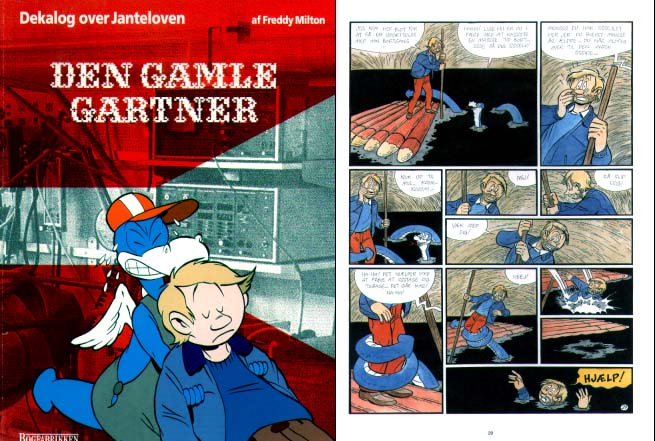 This is a fantasy contribution to the Decalogue series, where our leading character, Villiam, loses his life and is supposed to go to the eternal pastures in the 7th Sky, but the newly graduated accompanying guardian spirit, Paragon, unfortunately is not able to convince Villiam that he has indeed perished from a car accident. This story was the inspiration for a new literature fantasy series with the blue dragon Paragon as a guardian spirit from the Soul Service taking on a number of cases concerning restless souls situated in a middle layer, Limbo, between Heaven and Earth. Here restless souls roam, not able to free themselves from their connection to an earlier earthly life…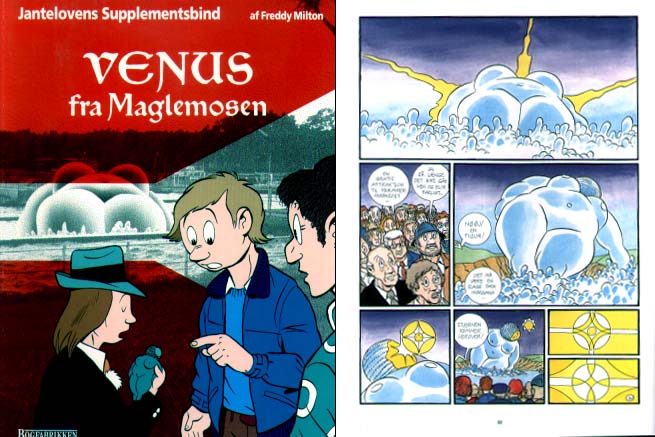 The concluding supplementary album in the Decalogue series is apocalyptic. In this album, the world as we know it collapses with the people on Earth set back to an existence resembling that from the Stone Age. This story had to be the last in the series, since there is nothing of civilization left after that…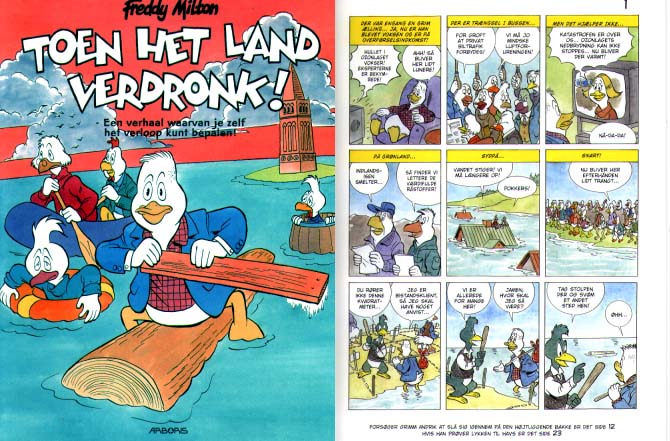 After the Decalogue, I launched a new series with which-way albums. That concept became popular for a while with books in an attempt to compete with the threatening new interactive computer games, where you could influence your own stories. The appealing thing for me included endings that was never possible in a regular story following a narrow line of development. In this story the effects of global warming has come to full effect causing Denmark to be floated so we all have to find a new place to live. This vision introduced before the invasion of refugees over the sea from Africa to Europe…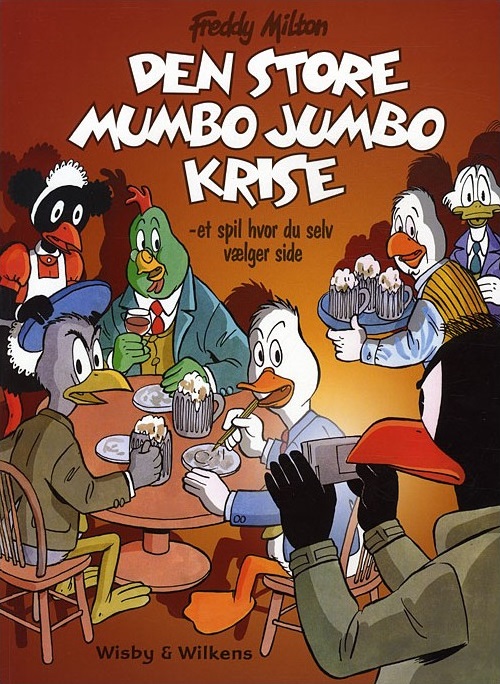 This which-way album referring to the Mohammad crisis with Danish cartoonists drawing Mohammad paralleled with Grimm Gander drawing the black woodpecker's guru on a beer tab one evening at a bar. A follower takes a picture and Hell break lose. Since this is an album with multiple-choice endings, I can include the gruesome one with a terrorist attack on a Copenhagen subway station…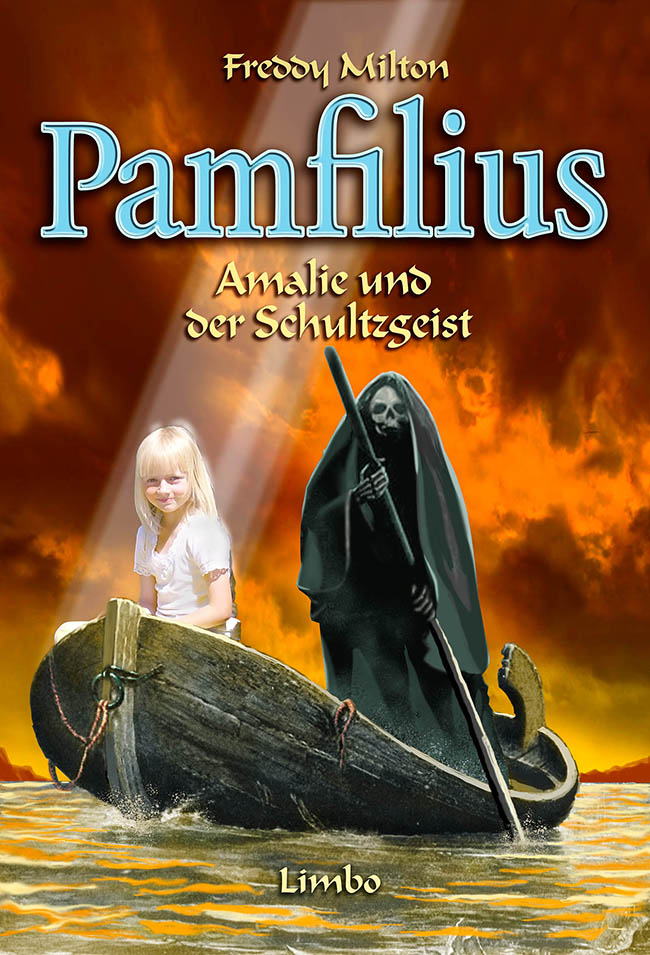 Shifting to literature, I expanded the spiritual vision from album 10 of the Decalogue series. Here a girl, Amelia being victim of a car crash and supposedly must go to the place for soul rebirth in the 7th Sky. The guarding spirit Paragon cannot convince her of being dead, so he accompanies her through Limbo and ultimately end up in Paradise, where Our Lord still handle the small allotment garden from where everything evolved a long time ago. Amelia talks him into making a stand at the upcoming conference between gods at the space station Limbo, and thus she improves the conditions on the rebirth of souls on Earth…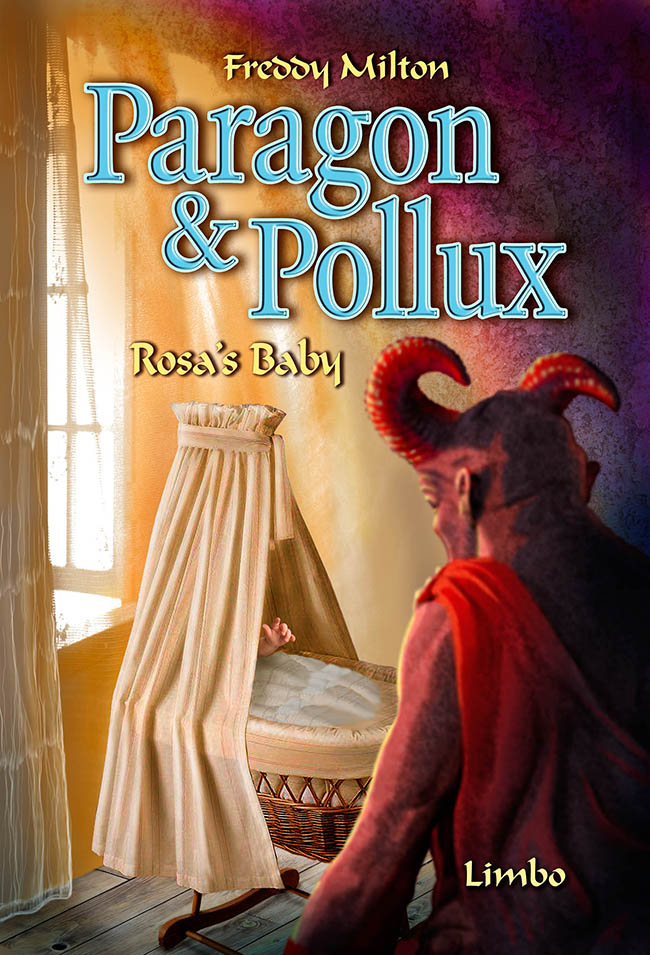 The second part of Amelia issued as a separate volume on Amazon e-books, includes Satan's scheme to let one of his darkest souls be reborn on Earth benefitting from the irregularities introduced in The Big Plan following the fate of Amelia and her father from the first book. There is a confrontation in the Underworld between Satan and God and the future of the Earth, and the reference to Rosemary's Baby is evident. Here we have another attempt for Satan to undermine the stability of Earth and he almost succeeds…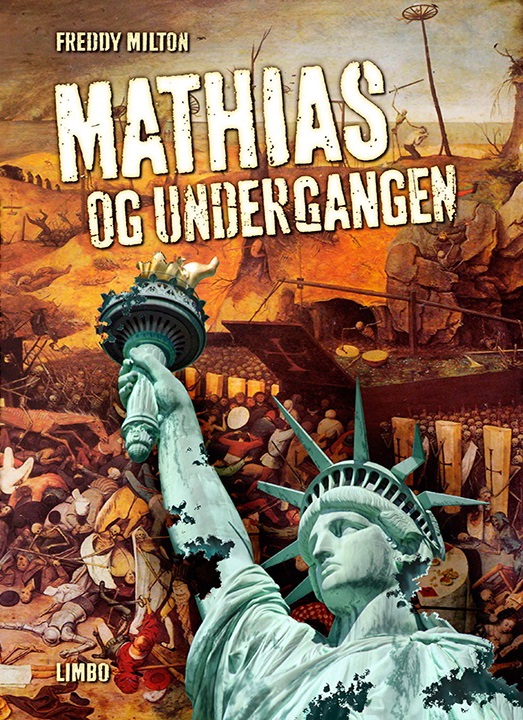 In this book, two boys are living in the basement because their father has said that it is dangerous to go to the surface, where the air is still dangerous to breathe after a nuclear war… The story is inspired partly from the film 'Blast from the Past' where a family lives in an underground shelter for thirty years for the same reason…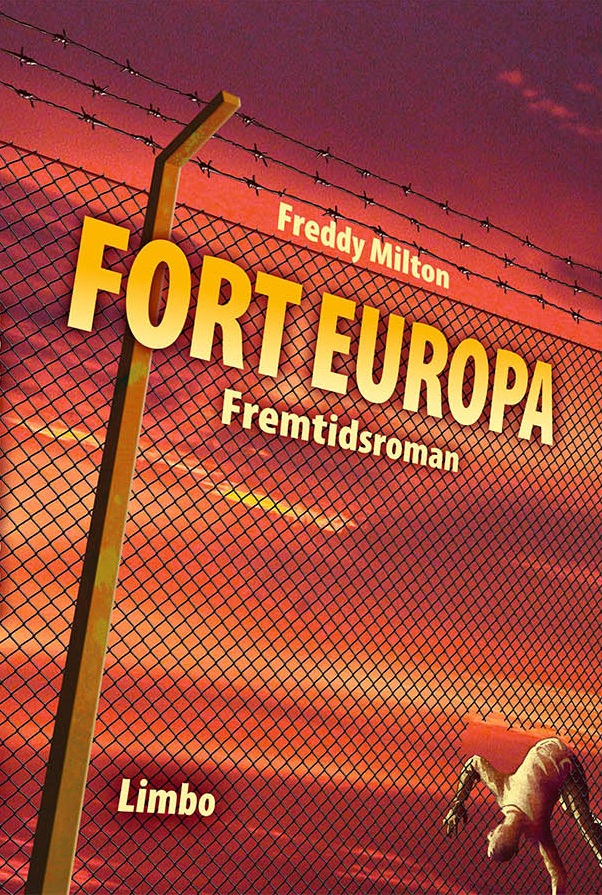 This is my ultimate vision of the decline of civilization. Man does not perish but set back to existence on Stone Age level. We also follow the last days of life as we know it, before the ultimate setback encounters. This respected book came out in 2014 in November where I had a vision that someday people might put up a fence around Europe to keep intruders out. Little did I know it would happen during the upcoming year. I get quite troubled what I might allow myself to imagine next…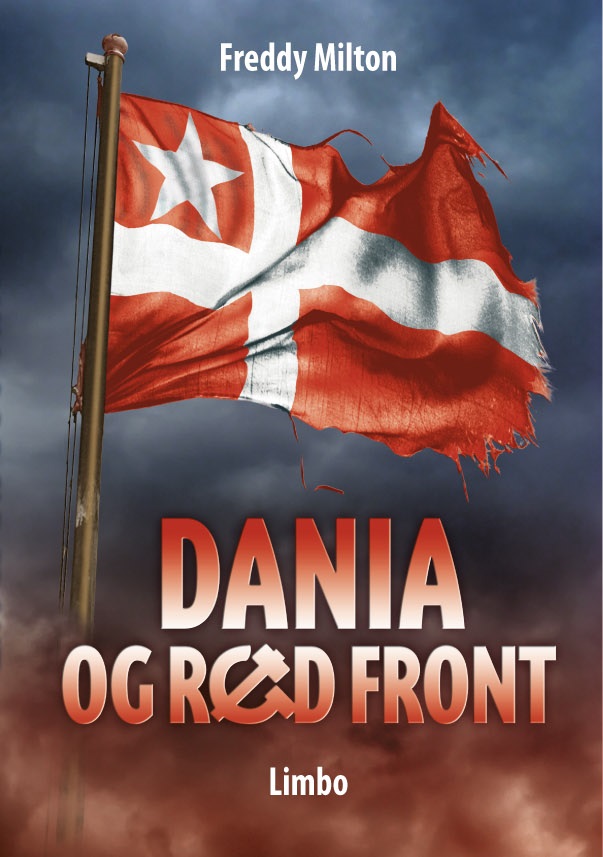 This story imagines what would have happened if we had had a militant left wing faction in Denmark as they had in Germany and Italy in the seventies. Focus is on a Marxist school system, which has a counterpart in my story much to the real one in Denmark at the time. One may wonder what made youngsters be willing to swap democracy for a red lollipop in those days, and the story pinpoints a set of motives that could have led to disaster, if the Marxists and Maoists had it their way…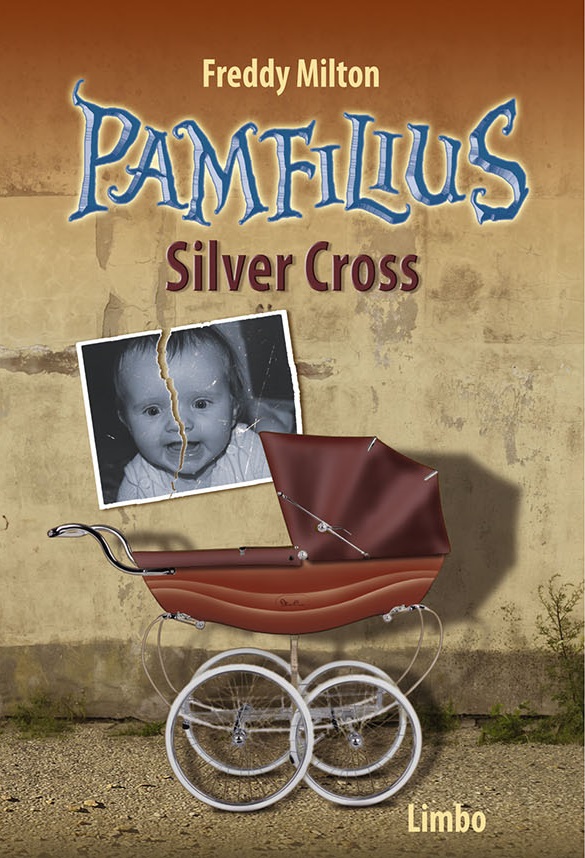 Here Paragon gets a fantasy series of his own. Four children fear what will happen to them, if authorities find out that their mother has died. To prevent that from happening right away they put her in a deep freezer and manage to keep it a secret. On the spirit level Paragon being sent out to locate a particular wandering soul in Limbo and bring it back for use in a worthy cause by the Soul Administration. To do that he must go forward and change the future fate of the four children…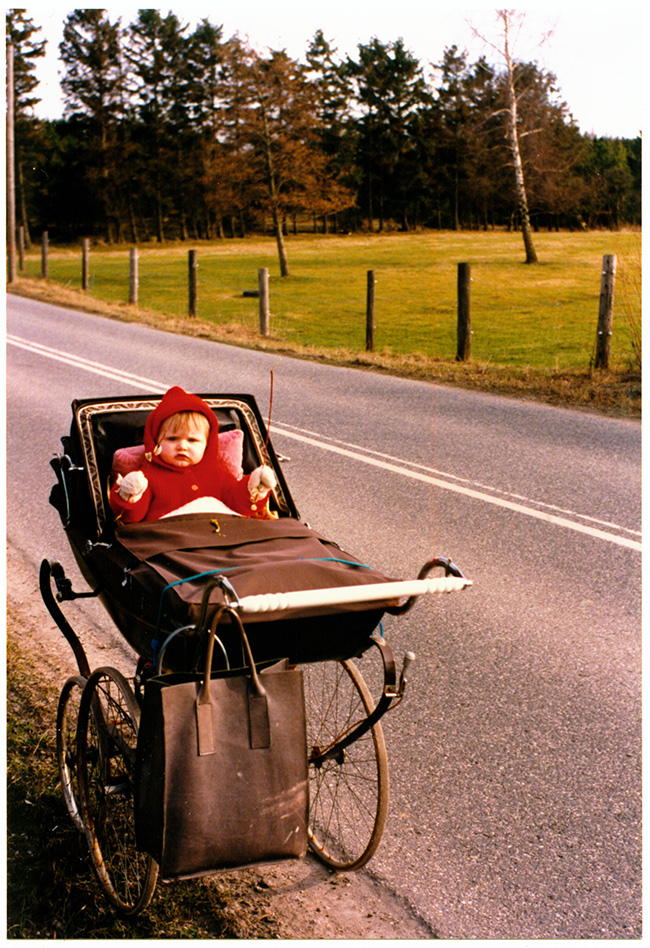 The brown Silver Cross baby carriage from the book was inspired from my own baby carriage used to transport my firstborn kid Ida many years ago. I have often thought of memories of my own when making books with some of them reflected in my writing. When starting out writing books I did not imagine I could put that many words together, but now I find it challenging that I can encompass so much more storyline in a book than a comic album. My good friend Jussi Adler-Olsen challenged me when sharing a studio once. He teased me by asking when I would be writing a book myself, and since I had an idea for a story, I could not have room for in a comic album version I tried writing it as a book, and it worked. The title was 'Questland' and you can see all my books in three languages mentioned at www.questland.org
This is my last which-way album not yet published. The black Woodpeckers spawn from two different old tribes. One tribe is open to technical development while the other tribe rejects any such nonsense and demand of people to believe and put their fate in religion, from which the managers of course benefit… Since there are more endings the reader can play with the idea what may come out of old conflicts like that…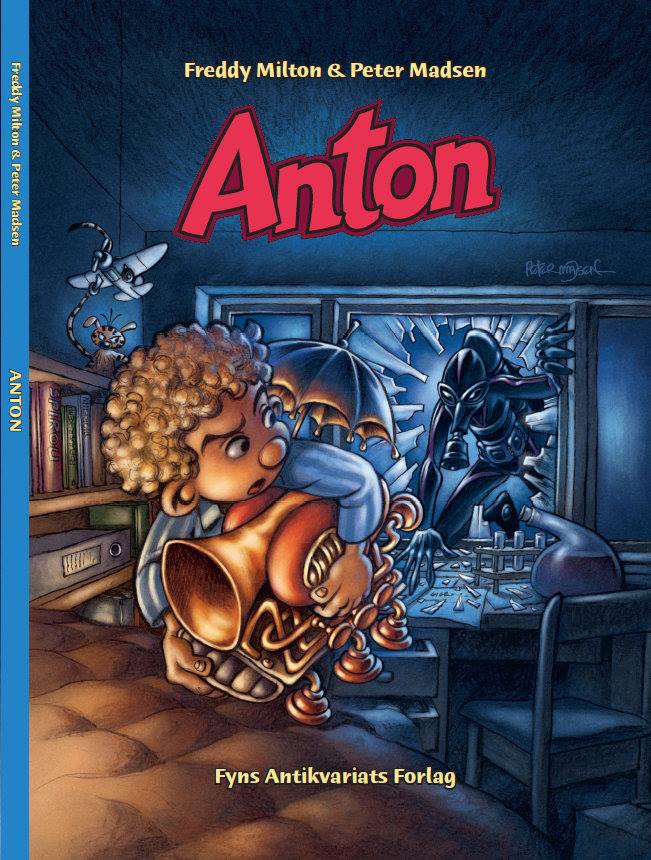 This is not really a big scale catastrophe album, but it is the last one in print and with it, I come full circle publishing comics albums. I had only a vague remembrance of it, when a colleague of mine finally said he had time over to make it ready for the printer. I wrote the story in the beginning of the seventies and a younger friend of mine illustrated it while attending High School. During the end of illustrating it then approached by Interpresse asking him if he would consider illustrating a series of comics albums built round the gods of the Norse mythology. He did, and he spend the major part of his career doing these albums. I continued with doing my funny animal albums. In the ride back home after pre-signing 200 albums together with Peter Madsen for the Art Bubble festival I wondered how that 40 years old story actually was… Fortunately, it stood the test of time. The most important angle is, that magical things may lose their effect if analyzed by shrewd technologists who want to copy the gadget and ultimately profit from it. So already back then, I had a satirical twist to my stories.
Looking back, I have usually found a moral contemporary point to include in my stories. I thereby took up the ancient tradition of fairy tale fables with anthropomorphic characters, where a motif was to convey a guideline for human behavior. Fortunately, I managed to do so in an entertaining way, or at least I hope so.
It is not evident being allowed to bring out story concepts unrestricted within mass media. Maybe I managed because the comics medium was no longer such a prominently commercial mass medium during my years of production. In fact, many projects have been losing propositions moneywise. I managed to get by because I was versatile and productive. People remember how productive I was. Some people may hopefully remember me for a little more than that...

tilbage