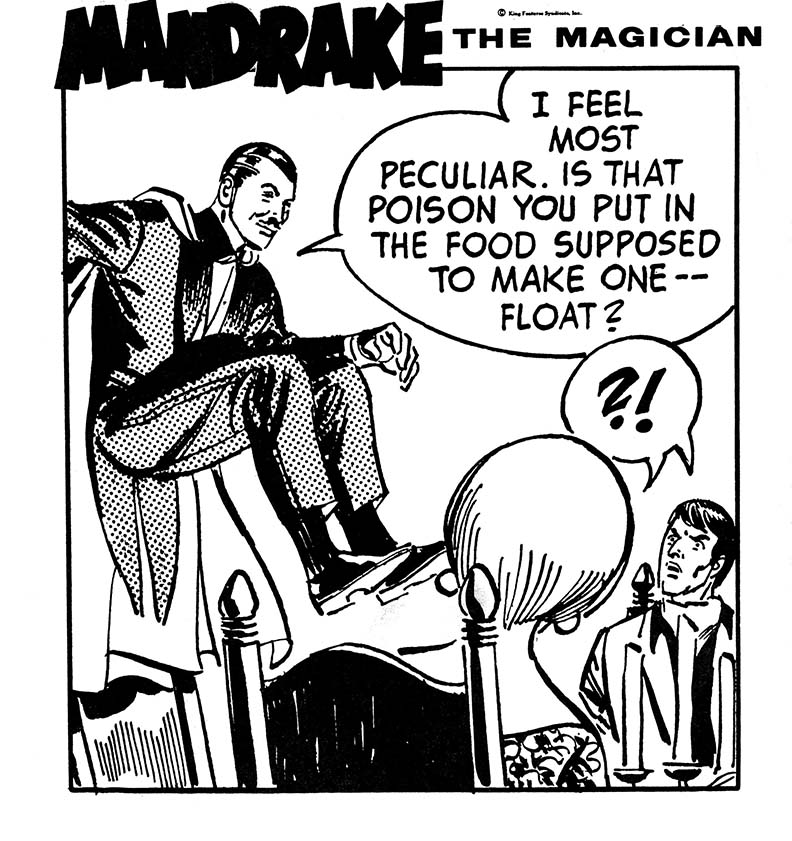 MANDRAKE THE MAGICIAN
FRED FREDERICKS
Harold 'Fred' Fredericks, Jr. (August 9, 1929 – March 10, 2015) was an American cartoonist, who drew the Mandrake the Magician comic strip from June 1965, taking over from the late Phil Davis. Creator Lee Falk modernized the comic when Fredericks took over the strip, making it more reality-based by focusing less on science fiction and fantasy, and making Mandrake operate more like a secret agent, often helping the police with cases they could not solve.
Fredericks is also well known for inking The Phantom Sunday strips 1995 to 2000, penciled by George Olesen; Graham Nolan succeeded Fredericks when he decided to concentrate fully on Mandrake.
He was also known for writing the comic strip 'Rebel' for Scholastic Magazine from 1964 to the early 1990s, and for drawing the following comic books: Nancy, Boris Karloff, The Twilight Zone, Mighty Mouse, Barney Google and Snuffy Smith, O.G. Whiz presents Tubby, Bullwinkle, Mister Ed and The Munsters. Fredericks also inked several comic books for Marvel Comics and DC Comics, including The Punisher War Journal, Nth Man: The Ultimate Ninja, Defenders of the Earth, Daredevil, Quasar and G.I. Joe.
After Mandrake creator Lee Falk died in 1999, Fredericks became responsible for writing the scripts for the Mandrake strip by himself. The Mandrake Sunday page continued until the final 187th story, 'Shadows on Devil Road', ending December 29, 2002.
In 2013, Fredericks retired, and the Mandrake daily comic strip went into reprints from 1995 beginning on July 8, 2013. He died March 10, 2015.
Mandrake the Magician is a syndicated newspaper comic strip, created by Lee Falk, and before he created The Phantom. Mandrake began publication on June 11, 1934. Phil Davis soon took over as the strip's illustrator, while Falk continued to script. The strip is distributed by King Features Syndicate.
Mandrake, along with the Phantom Magician in Mel Graff's The Adventures of Patsy, are regarded by comics' historians as the first superheroes of comics. Comics historian Don Markstein writes, 'Some people say Mandrake the Magician, who started in 1934, was comics' first superhero.'
Davis worked on the strip until his death in 1964, when Falk recruited current artist Fred Fredericks. With Falk's death in 1999, Fredericks became both writer and artist. The Sunday Mandrake strip ended December 29th, 2002.
Mandrake is a magician whose work is based on an unusually fast hypnotic technique. As noted in captions, when Mandrake 'gestures hypnotically', his subjects see illusions, and Mandrake has used this technique against a variety of villains including gangsters, mad scientists, extraterrestrials, and characters from other dimensions. At various times in the comic strip, Mandrake has also demonstrated other powers, including turning invisible, shapeshifting, levitation, and teleportation. His hat, cloak and wand, passed down from his father Theron, possess great magical properties which in time Mandrake learns how to use. Although Mandrake publicly works as a stage magician, he spends much of his time fighting criminals and combatting supernatural entities. Mandrake lives in Xanadu, a high-tech mansion atop a mountain in New York State. Xanadu's features include closed circuit TV; a sectional road which divides in half; and vertical iron gates.