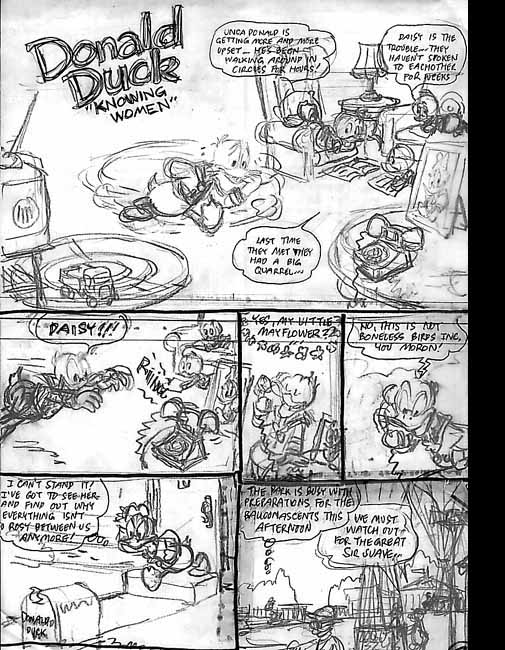 KNOWING WOMEN
In the early 90'es Gorm Transgaard and I tried to form a production team with Egmont. We saw that the public now appreciated versatile treatments where personal styles in story and corresponding art stood out as was the case with Don Rosa and William van Horn. Gorm and I thought we could do just as well. However this more modern editorial attitude had only been imposed on Egmont by a demand from newcomer Byron Ericsson of Gladstone Fame who insisted on working together with these two prolific artists in his newfound job. As for the art direction it still hailed the uniformity code so effectively executed by the Spanish Barcelona Studio that Helge Barner himself had established. So even if Byron would have liked us to form a new team our suggestion was rejected by Helge Barner. His "baby" in Spain should do all the drawing jobs.
It was only later that Egmont realised the modern point in marketing the duck-universe by emphasising personal artist differences in their presentation efforts as being the case with The hall of Fame book series, where artist credits were the sales argument.
So the two of us might have been some right people with some right stuff but not at the right time. Later together we did a number of stories with a special twist to them for the Dutch office - notably from scripts rejected by Egmont - and Gorm continued to produce other stories for shifting Egmont artists, who always have ignored his detailed and to the point layouts and often making the total appearance bland and anonymous.