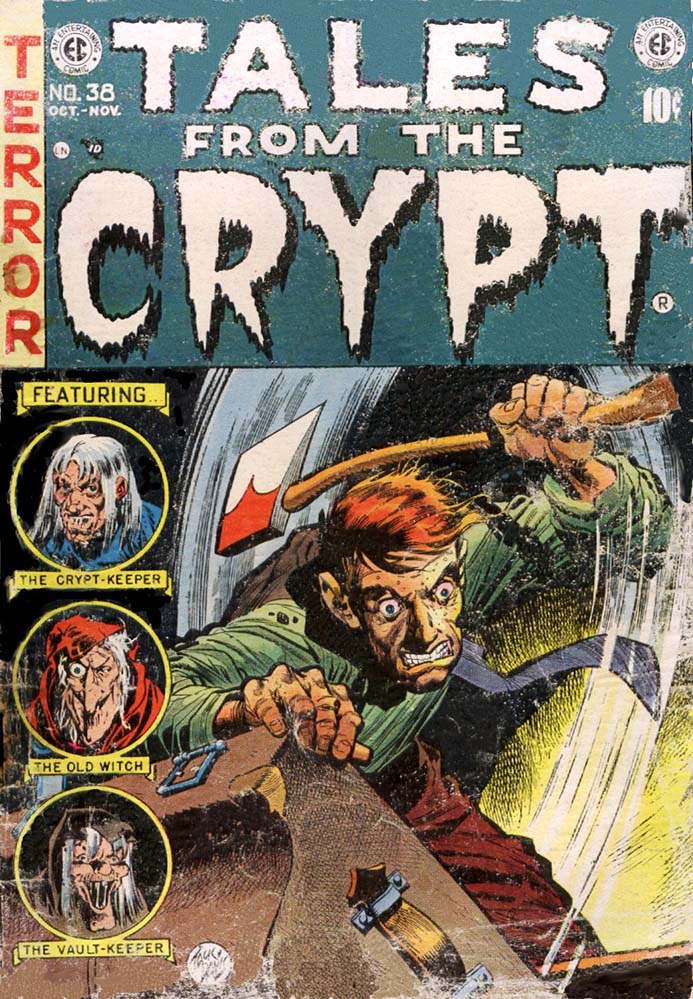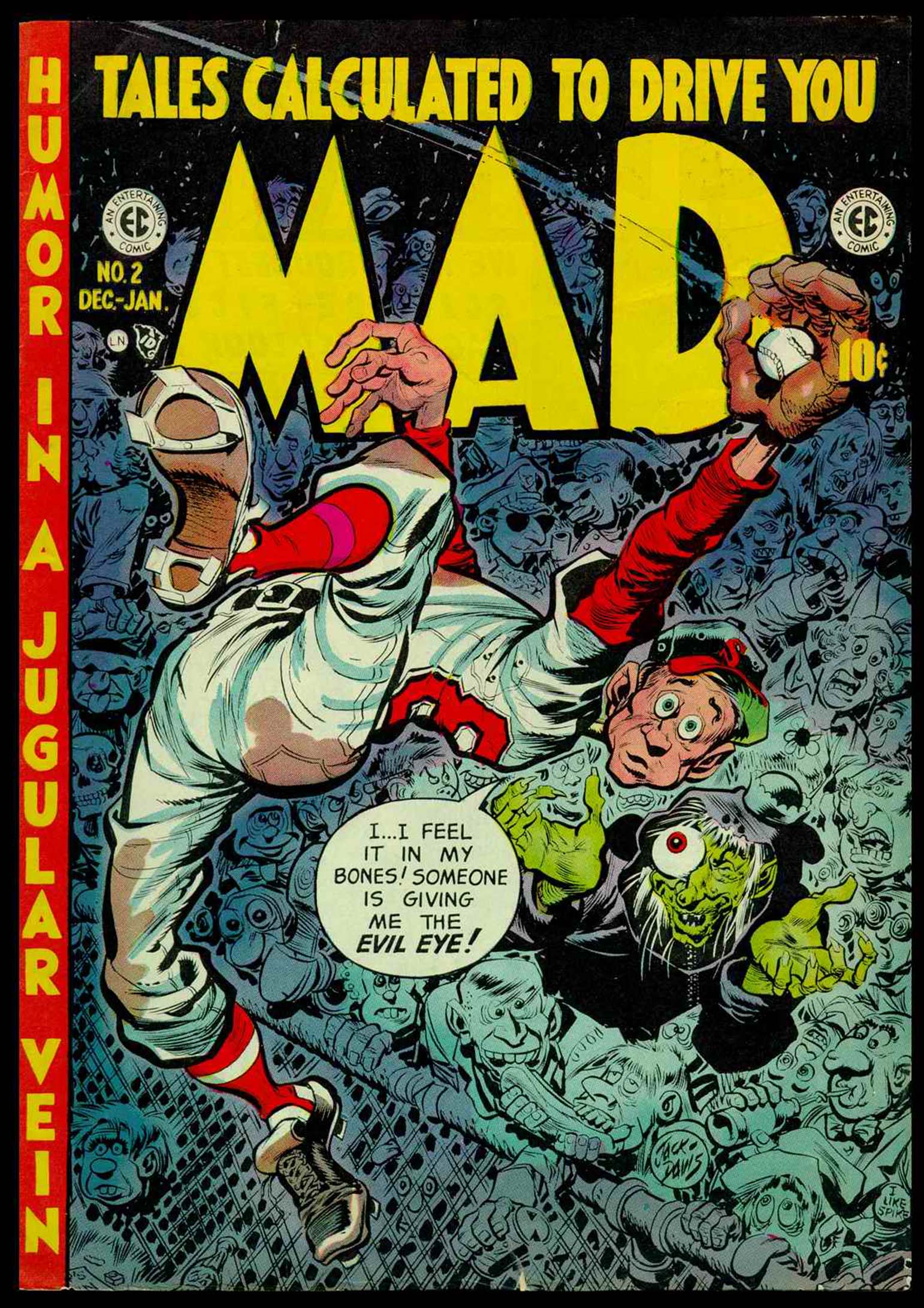 JACK DAVIS
Jack Davis, born December 2, 1924 in Atlanta, Georgia, died 2014. He was an American cartoonist and illustrator, known for his advertising art, magazine covers, film posters, record album art and numerous comic book stories. He was one of the founding cartoonists for Mad in 1952. His cartoon characters are characterized by distorted anatomy, including big heads, skinny legs and extremely large feet.
Davis saw comic book publication at the age of 12 when he contributed a cartoon to the reader's page of Tip Top Comics #9 (December 1936). After drawing for his high school newspaper and yearbook, he spent three years in the U.S. Navy, where he contributed to the daily 'Navy News'.
Attending the University of Georgia on the G.I. Bill, he drew for the campus newspaper and helped launch an off-campus humor publication, Bullsheet, which he described as 'not political or anything but just something with risque jokes and cartoons'. After graduation, he was a cartoonist intern at The Atlanta Journal, and he worked one summer inking Ed Dodd's Mark Trail comic strip, a strip he later parodied in Mad as 'Mark Trade'.
In 1949, he illustrated a Coca-Cola training manual, a job that gave him enough cash to buy a car and drive to New York. Attending the Art Students League of New York he found work with the Herald Tribune Syndicate as an inker on Leslie Charteris's The Saint comic strip, drawn by Mike Roy in 1949-50. His own humor strip, 'Beauregard', with gags in a Civil War setting, was carried briefly by the McClure Syndicate. After rejections from several comic book publishers, he began freelancing for William Gaines' EC Comics in 1950, contributing to Tales from the Crypt, The Haunt of Fear, Frontline Combat, Two-Fisted Tales, The Vault of Horror, Piracy,Incredible Science Fiction, Crime Suspenstories, Shock Suspenstories and Terror Illustrated.
In 2011, Davis told the Wall Street Journal about his early career and his breakthrough with EC:
'I was about ready to give up, go home to Georgia and be either a forest ranger or a farmer, but I went down to Canal Street and Lafayette, up in an old rickety elevator and through a glass door to Entertaining Comics where Al Feldstein and Bill Gaines were putting out horror comic books. They looked at my work and it was horrible, and they gave me a job right away! Every time you went in to see Bill Gaines, he would write you a check when you brought in a story. You didn't have to put in a bill or anything. I was very, very hungry and I was thinking about getting married, so I kept the road pretty hot between home and Canal Street. I would go in for that almighty check, go home and do the work, bring it in and get another check and pick up another story'.
Davis was particularly noted for his depiction of the Crypt-Keeper in the horror comics, revamping the character's appearance from the more simplistic Al Feldstein version to a tougher, craggier, mangier man with hairy warts, salivating mouth and oversized hands and feet, who usually didn't wear shoes. Among the classic horror tales he illustrated were 'Foul Play', which was cited in Dr. Fredric Wertham's book Seduction of the Innocent for its depiction of 'a comic book baseball game'. Others, like 'Tain't The Meat, It's The Humanity', 'Death Of Some Salesman', 'Fare Tonight Followed By Increasing Clottiness', 'Tight Grip' and 'Lower Berth' were Crypt-Keeper classics. He did the covers for every issue of Crypt from issue #29 to #46. In his work for Harvey Kurtzman's war comics he tackled a variety of subjects and had a particular affinity for depicting American Civil War stories. He also did many covers for Frontline Combat, Two-Fisted Tales and Incredible Science Fiction as well.
The editors, William M. Gaines, Albert B. Feldstein and Harvey Kurtzman have said he was the fastest artist they had in those days, completely penciling and inking three pages a day at times, or more. His use of the brush to create depth and mood was unique and memorable. His wrinkled clothing, scratchy lines and multi-layered layouts were so popular in the 1950s, that other artists at rival companies began copying the style—notably, Howard Nostrand in Harvey's horror comics. In the late 1950s, Davis drew Western stories for Atlas Comics. His 1963 work on the Rawhide Kid (#33-35) was his last for non-humor comic books.
His style of wild, free-flowing brushwork and wacky characters made him a perfect choice when Harvey Kurtzman launched Mad as a zany, satirical EC comic book in 1952. He appeared in most of the first 30 issues of Mad, all 12 issues of Panic and even some work in Cracked. Davis contributed to other Kurtzman magazines—Trump, Humbug and Help!—eventually expanding into illustrations for record jackets, movie posters, books and magazines, including Time and TV Guide. He completed an 88-card set of humorous cartoons called Wacky Plaks, which Topps Chewing Gum Co. released in 1959. In 1961, he wrote, drew, and edited his own comic book, Yak Yak, for Dell Comics. In 1965, he illustrated 'Meet The North American Indians' by Elizabeth Payne, published by Random House as part of their children's Step Up Books line. He returned as a regular contributor to Mad magazine in the mid-1960s and appeared in nearly every issue after that for decades. He also drew many covers for the magazine, especially in the 1970s.
Davis also had a regular comic strip feature in Pro Quarterback magazine in the early 1970s entitled 'Superfan', which was written by his Mad cohort, Nick Meglin.
As of May 2014, he was the only surviving artist of the EC horror comics. Their colourist (who did no story art for EC) Marie Severin was also still living. Wallace Wood died in 1981 and Reed Crandall died the following year. Bernie Krigstein died in 1990 and Graham Ingels died the following year. Joe Orlando died in 1998. Johnny Craig and George Evans died in 2001. Jack Kamen and Will Elder died in 2008, Frank Frazetta and Al Williamson died in 2010. Harry Harrison died in 2012 and Al Feldstein died in April 2014.