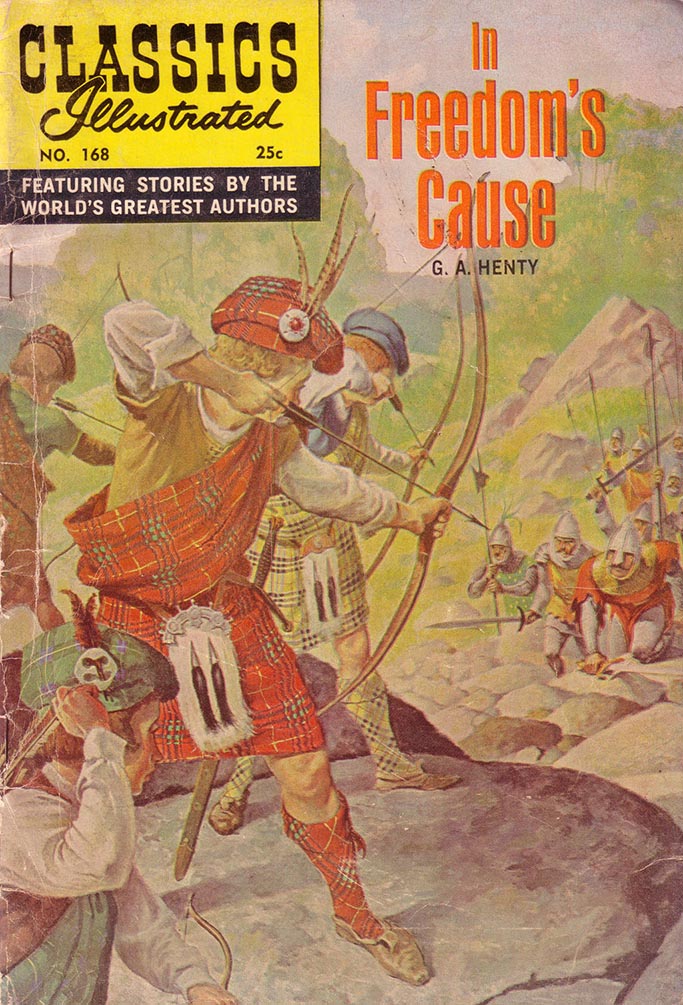 IN FREEDOM'S CAUSE
REED CRANDALL
Reed Crandall (22 February 1917 - 13 September 1982, USA) was born in Winslow, Indiana. After graduating, he moved to New York at the invitation of a publisher of children's books, but after illustrating just one cover, Reed left the company. He then went to work for the NEA Syndicate as an editorial cartoonist before finally landing a job at the Eisner-Iger shop on Manhattan's east side. At this time, he worked alongside such greats as Will Eisner, Lou Fine, Paul Gustafson, Alex Kotzky, Jerry Iger and Fred Guardineer. Almost all of Crandall's output at this time went to the Quality Comics Group which published such titles as Hit Comics, Crack Comics, Smash Comics, Military Comics and Uncle Sam which later became Blackhawk Comics.
In the beginning, one of Reed's chores was inking Lou Fine's wonderful Military Comics covers. Shortly afterwards, Quality's publisher Everett M. Arnold saw his beautiful fine-lined renderings, he reportedly hired him exclusively. Some of the features he drew included 'The Ray', 'Firebrand', 'Hercules', 'Uncle Sam', 'Dollman' and 'The Blackhawks'. Before long Reed was illustrating all of the 'Blackhawk' and 'Dollman' stories, which he continued to draw for almost fifteen years.
When Quality scaled down their line, Reed Crandall began doing work for EC. Crandall drew stories for EC's SF, Suspenstory and Horror, as well as nearly all the New Direction and Picto-Fiction titles. When EC & Quality both discontinued comic production in 1955/56, Reed did occasional work for Atlas/Marvel.
By 1960 he landed a contract with Treasure Chest Comics and drew stories for this educational Catholic comic for twelve years. He also drew the giveaway comic 'Buster Brown' (based on Richard F. Outcault's eponymous character) for the Buster Brown Shoe Stores for several years. He teamed up with George Evans in the early 1960s to do work on the Gold Key titles The Twilight Zone and Gilberton's Classics Illustrated.
In the mid1960s he worked with Wallace Wood on 'Thunder Agents' and 'Dynamo' at Tower Comics and also drew stories for King Comics's 'Flash Gordon' book. He contributed to James Warren's horror titles Eerie and Creepy and did book illustration for the work of Edgar Rice Burroughs. Following a stroke in 1974, Crandall had to stop his drawing activities. He passed away in Wichita, Kansas in 1982.