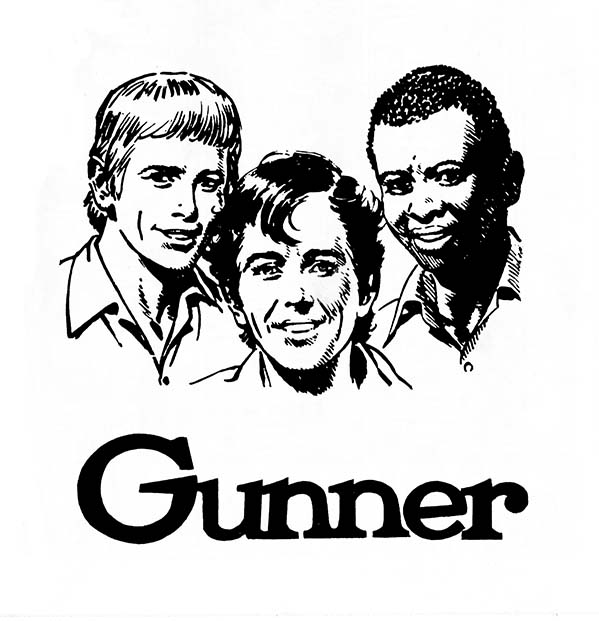 GUNNER

JOSE LUIS SALINAS

Salinas was born in Buenos Aries in 1908. His first job on leaving school was with the advertising agency Exitus where during his nine year apprenticeship he learnt his craft. His style was much influenced by the great American comic artists of the time, notably Harold Foster and Alex Raymond. During his tenure with Exitus he had work published in the magazines El Tony and Paginas de Columba. His first succesful strip was Herman el consario (Herman the Corsair) which appeared in the December 1936 pages of Patoruzu. In 1937 Salinas drew comic adaptations of popular literature for El Hogar, notably Last of the Mohicans, King Solomon's Mines,The Scarlet Pimpernel etc.

In 1949 he left for the United States where he entered into an agreement with the King Features Syndicate to create the drawings for a project that they had in mind. The project was a comic version of O. Henry's character The Cisco Kid. The Kid had appeared in only one short story written by Henry in the 1920's, and had been portrayed as a baddy, however in 1929 film director Raoul Walsh had made him the central character in his film In Old Arizona. The film was a success and a new Cisco Kid film appeared virtually every year. The success of the films also sparked a popular radio series 1942 and another in 1946 and eventually a TV series starring Duncan Rinaldo as Cisco.

Wishing to cash in on The Cisco Kid's popularity for their newspaper strip, King Features had commissioned writer Rod Reed to create the stories and Salinas to draw the strips. The result was magic: the Kid actually kissed the heroine rather than his horse, Salinas' animals looked life-like, his villains mean, his heroines pretty. The strip debuted in 1950 and ran without change of editor, writer or artist every weekday for eighteen years, during which time it was syndicated all over the world including the UK.

By 1968 The Cisco Kid's popularity had waned, and Salinas, heartily fed-up of drawing comic strips, must have given a sigh of relief and been looking forward to a well deserved rest. He had long since been producing illustrations and painting for his own pleasure, and in 1968 he gave an exhibition of them in London, where Fleetway editor Leonard Matthews persuaded Salinas to let him use a few illustrations for his comic Tell me Why.

Three years later in 1971, Salinas returned to King Features Syndicate to draw the comic strip Gunner with scripts by Alfreddo Grassi. Salinas died in 1985.