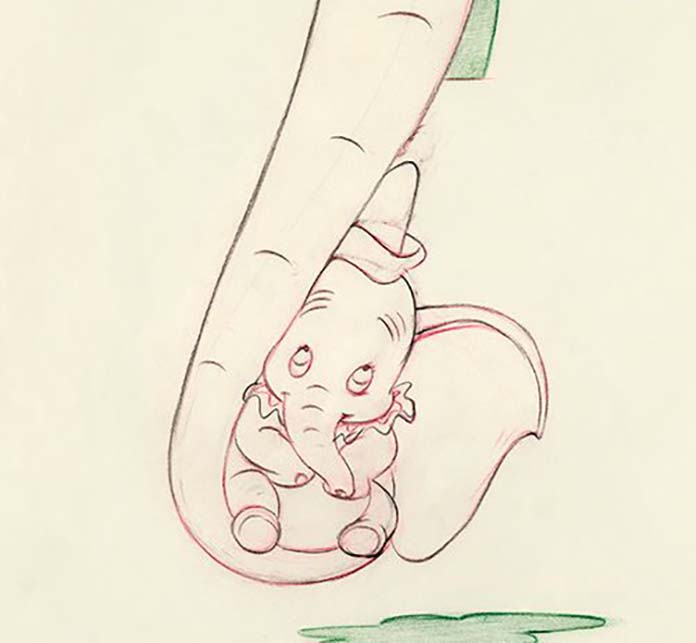 DUMBO
Dumbo is a 1941 American animated film produced by Walt Disney Productions and released by RKO Radio Pictures. The fourth Disney animated feature film, it is based upon the storyline written by Helen Aberson and Harold Pearl, and illustrated by Helen Durney for the prototype of a novelty toy ('Roll-a-Book').
The main character is Jumbo Jr., a semi-anthropomorphic elephant who is cruelly nicknamed 'Dumbo', as in 'dumb'. He is ridiculed for his big ears, but in fact he is capable of flying by using his ears as wings. Throughout most of the film, his only true friend, aside from his mother, is the mouse, Timothy – a relationship parodying the stereotypical animosity between mice and elephants.
Dumbo was released on October 23, 1941; made to recoup the financial losses of Fantasia, it was a deliberate pursuit of simplicity and economy for the Disney studio. At 64 minutes, it is one of Disney's shortest animated features. Sound was recorded conventionally using the RCA System. One voice was synthesized using the Sonovox system, but it, too, was recorded using the RCA System.
In 2017, the film was selected for preservation in the United States National Film Registry by the Library of Congress as being 'culturally, historically and aesthetically significant'.
A live-action adaptation of the film directed by Tim Burton was released on March 29, 2019.
Upon the passing of winter, in 1941, a flock of storks deliver babies to circus animals within the 'Winter Quarters' in Florida. All the mothers receive their parcels before departure except the elephant Mrs. Jumbo. During travel, a lost stork brings her an elephant who, to the other elephants' surprise, is adorned with extraordinarily large ears. He is made an object of ridicule and given the nickname "Dumbo". Mrs. Jumbo attempts to remain dignified and treats her child with all her maternal love, but when a group of rascals takes to mocking Dumbo, Mrs. Jumbo catches one of them with her trunk and spanks him. The circus ringmaster deems Mrs. Jumbo mad and has her locked in a cage. The lone Dumbo is made a pariah amongst the rest of the circus troupe. A small mouse named Timothy consoles Dumbo and vows to make him a star.
After being secretly encouraged by Timothy, the ringmaster makes Dumbo the top of an elephant pyramid stunt. The performance goes awry as Dumbo trips over his ears and misses his target, causing the other elephants to suffer various injuries, and bring down the big top. Dumbo is made into a clown as a result, to the shame of the other elephants, and plays the main role in an act that involves him falling into a vat of pie filling. Despite his newfound popularity and fame, Dumbo dislikes this job, and is now more miserable than ever. To cheer Dumbo up, Timothy takes him to visit his imprisoned mother. The two are unable to see each other face to face and can only entwine trunks. On the way back, Dumbo cries and then starts to hiccup, so Timothy takes him for a drink of water from a bucket that, unknown to them, has accidentally had a bottle of champagne spilled into it by the clowns. As a result, Dumbo and Timothy both become drunk and have surreal hallucinations of pink elephants.
The next morning, Dumbo and Timothy are awakened by a group of crows who are surprised to find an elephant sitting on the highest branches of a tree. As the initial astonishment passes, Timothy surmises that Dumbo had managed to achieve flight using his large ears as wings. Timothy persuades Dumbo to use this gift with the support of the crows' leader, who gives Dumbo one of his feathers and convinces him that it carries magic properties that will allow him to fly. Back at the circus, Timothy proposes to Dumbo to transform his clown act into a flying performance. As Dumbo unfolds his ears during the plummet, he loses the feather and panics. Timothy quickly confesses that the feather was never magical, and that he is still able to fly. Dumbo is able to pull out of the dive and flies around the circus, finally striking back at his tormentors as a stunned audience looks on in amazement. After this performance, Dumbo becomes a media sensation, Timothy becomes his manager and the new owner of the circus, Dumbo and Mrs. Jumbo are given a private car on the circus train, and while the sentient train Casey Jr. travels to the next destination, Mrs. Jumbo, Dumbo and the crows greet each other in the distance, with the little elephant's new friends wishing him good luck.