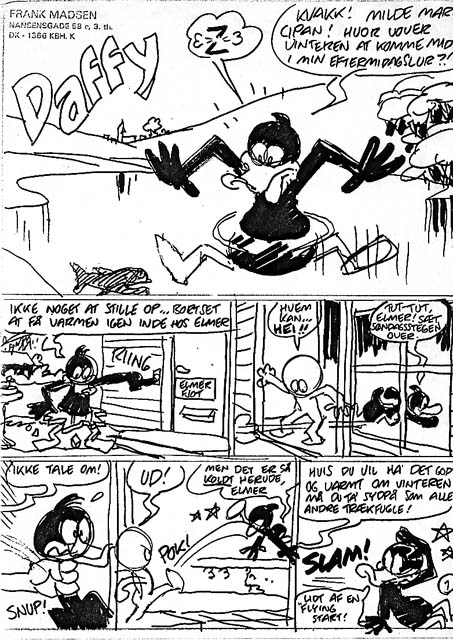 1959 offered new funny animal ventures for the Danish comics audience in the form of a bimonthly magazine called Daffy.
Already in 1957 a Danish version of the Rolf Kauka German Fix & Fox had hit the stands and it was followed in 1960 with Tom & Jerry, who had also been on the market from 1957 to 1958.
But the Daffy magazine lingered for 10 years to follow. It contained a fresh stroke of madness, which is only natural, since it featured the animated characters from Warner Bros. But since the qualities in action and craziness are more difficult to transfer to the slower paced comics format the content did not present itself as strongly as the stories in the Disney comics, where the storytelling was more in tune with the tradition from their cartoon counterparts. Still there were remarkable contributions with Daffy stories drawn by Phil de Lara and Bugs Bunny episodes by Ralph Heimdal.
After publication at a slower rate under the name of Bugs Bunny (Snurre) that lasted another 10 years the Allers publishers wanted to revive the series in 1985 under the name of Daffy & Co. In the beginning they wanted to add new production to the reprints, which they knew had become customary by then from other publishers, so when I was contacted I showed some interest, since the Woody Woodpecker magazines were in a phase of shutting down.
It was the Norwegians handling the editing and the new production, and I was to finish short Norwegian script episodes from layouts by Frank Madsen. I believe the following test episode was the only one to be executed, and I don't even think it was published. Anyway as I recall it neither of us received any payment for our efforts.
The publishing only lasted one year, or as long as it takes to get notice back from the magazine shops that figures of sales were too low. But at least on my record I can show, that I have tried my best with comics versions of the major stars from three competing funny animal factories.