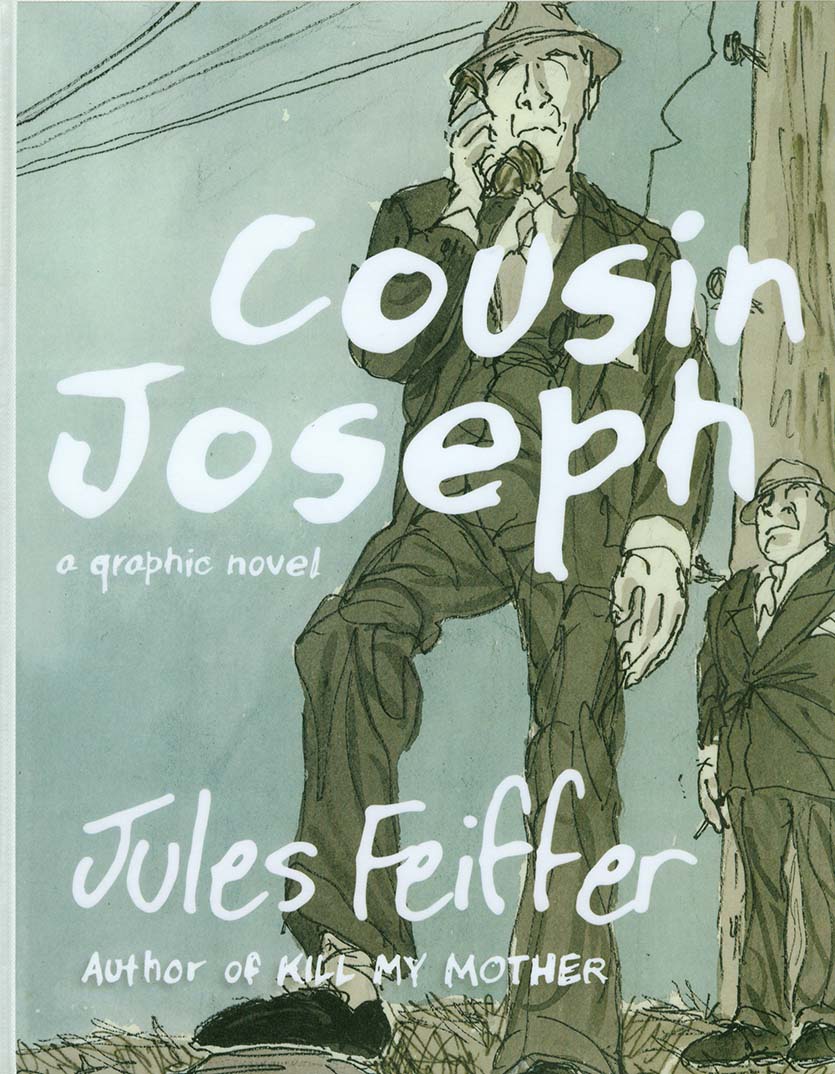 COUSIN JOSEPH
JULES FEIFFER
Jules Feiffer (b. 26 January 1929, USA) got his education at the Art Students League in New York and at the Pratt Institute in Brooklyn. In the beginning of his career, Jules Feiffer worked at the Eisner-Eiger shop as an assistant to the 'Spirit' comic. In 1949, he published his first comic feature Clifford, as a part of the 'Spirit' comic section. In addition, he produced slides, drew for an art gallery, and wrote scripts for Terrytoons. By 1951, Feiffer went to work in the Signal Corps, where he cooperated on many animated cartoons. After spending a short time at the Corps, he worked at different jobs before starting Feiffer, his social and political commentary in comic strip form, published weekly in the intellectual New York Village Voice magazine. The strip reached a wider audience, when it was distributed by the Robert Hall Syndicate and later Universal Press.
From 1958, Feiffer edited and illustrated articles in several magazines, including Playboy. In 1962, he created Munro, a satirical series about boy that was drafted in the army by accident, that was later made into an animated film. Feiffer compiled 'The Great Comic Book Heroes' chronicle in 1965. Besides drawing political and social cartoons, Feiffer has written novels (Harry the Rat with Women, Ackroyd, etc.), fimscripts (Little Murders, Carnal Knowledge, Popeye) and theatre plays (The White House Murder Case, Knock Knock, Grownups, etc.). He also appeared in Benoît Lamy's documentary 'Cartoon Circus' (1972), a Belgian documentary about cartoons and comics, in which he was interviewed alongside Sine'e, Picha, Roland Topor, Cabu, Jean-Marc Reiser, François Cavanna, Professeur Choron, Gal, Georges Wolinski, Wilem and Joke. In 1979, he made the graphic novel Tantrum.
His complete comics work has been reprinted by Fantagraphics during the 1980s under the tite 'Feiffer: The Collected Works'. Jules Feiffer, who stands as one of the main representatives of the 'intellectual comics' scene, received the Pulitzer Prize for his editorial cartooning in 1986. Currently, he writes and illustrates children's books. In 2014, Feiffer published Kill My Mother: A Graphic Novel through Liveright Publishing. Cousin Joseph is from 2016. I bring the first half of that graphic novel here. A third book, The Ghost Script is planned by this 90years old comics creator.