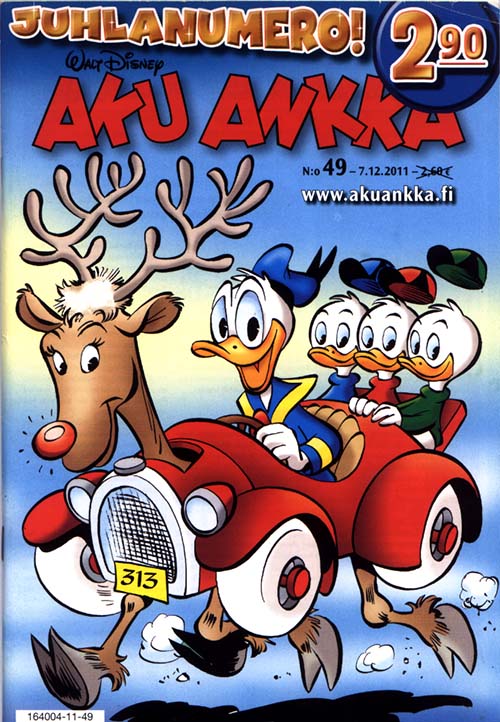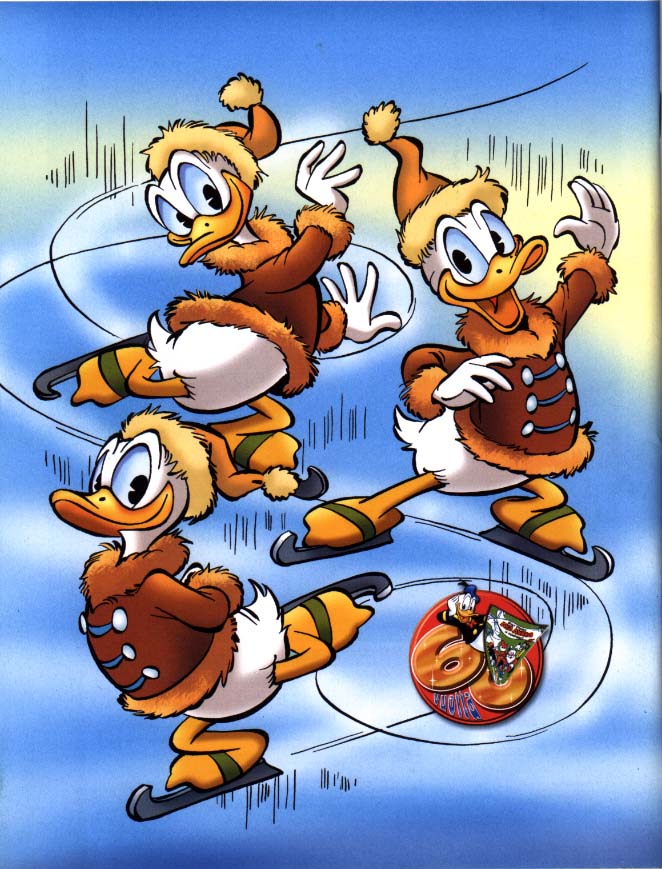 COLLECTIVE JUBILEE EFFORT
It is not a new concept that a number of artists go together to make a story with contributions of strips or pages from a different creators, both among amateurs or professionals. Sometimes they are carried out at festivals and the new contributor try to continue a storyline where the former creator left the story, and the fun might be to see where it all ends up.
Another way of executing this venture is to think ahead and decide upon a storyline where a number of creators are assigned to special contributions within an overall intrigue.
The finnish Aku Ankka publishers though it would be fun to celebrate the 60 years anniversary of the magazine published in Finland, so they made a story, where the nephews went out to get some artist to draw a picture of uncle Donald for his birthday.
Those contributors were of course people who worked with the ducks in the first place, and the invitation went out to those artists who had paid visits to the Finnish editorials over the years.
The cover drawings for the jubilee issue were Carl Barks pencils retouched and inked by Daan Jippes. I immediately accepted to join the work group consisting of twelve artists specializing in the ducks.
I had been together with Daan Jippes for a tour around Finland and a session primarily at the book fair in Helsinki where we both signed copies of the Finnish version of our Hall of Fame compilation book. More than a hundred people formed a row and came back later waiting patiently in a new row for some extra signing and drawing if the first wait had only led to a signature.
We had some field days there and our guide from the editorial office, Riku, was a perfect host in all respects and tended to our tiniest needs. I believe he can be seen in some of the videos from that tour available somewhere else on this site.
The script for this most special story was written by the Finnish artist/writer Kari Korhonen and the invited people were Cesar Ferioli, Paco Rodriques, Marco Rota, Mau Heymans, Wanda Gattino, Wilma van der Bosch, Arild Midthun, Michel Nadorp, Freddy Milton, Bas Heymans, Georgio Cavazzano and Daan Jippes.
I was proud to be invited to join that group of artist, all of whom I would have liked to present on this site separately, but this occasion may form the excuse I take to present them, each with one single page.
But it is also a way to pay homage and tribute to able colleagues in the field, especially since I am on my way out of that racket. The line of credited artists is the same as the order in which they occur in the actual story.
The storyline is also special in the way that each artist should include a self portrait on his page. It is a treat to witness how these fine colleagues envision themselves for that occasion.
I was trusted with the nephews' meeting with neighbor Jones, and I appreciated that, since I had made some prolific confrontations between him and Donald over the years. I found a pose of Donald that indeed caused the effect with me that I display in the following panel on page 9, and which I am of course not able to get down on paper as I was interrupted by the quarreling between Donald and his neighbor. It should have come to no big surprise to me, though, with that confrontation coming up.
The conclusive dialogue remark on that page from Kari I believe is intentional. By then he knew that I had already stopped my career as a duck man, but I cherished in this final stint belatedly to be allowed to ad a personal contribution.
Thank you, Finland, Aku Ankka, Jukka, Kari and Riku, as well as the new editor, Aki...