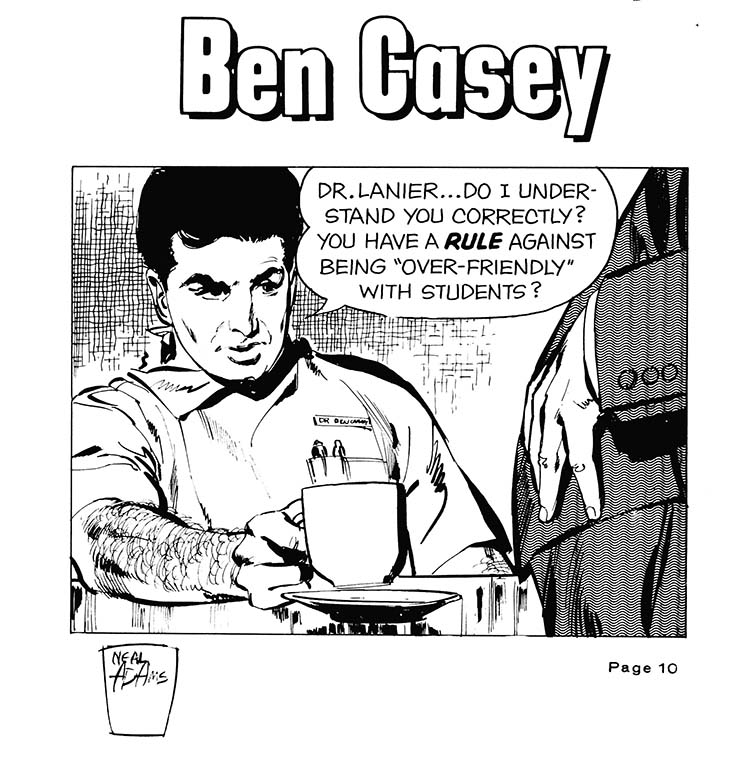 BEN CASEY
NEAL ADAMS
There was both a comic strip and a comic book based on the television series Ben Casey. The strip was developed and written by Jerry Capp (née Caplin) and drawn by Neal Adams. The daily strip began on November 26, 1962 and the Sunday strip debuted on September 20, 1964. Both ended on July 31, 1966 (a Sunday). The half page format was regarded as the best Sunday format, and one effect by Adams can only be appreciated in the half page—a globe in one panel is a continuation of Ben Casey's head in a lower panel. The daily strip was reprinted in the Menomonee Falls Gazette. The comic book was published by Dell Comics for 10 issues from 1962 to 1964. All had photo covers, except for the final issue which was drawn by John Tartaglione.
In 1962, Adams began his comics career in earnest at the NEA newspaper syndicate. From a recommendation, writer Jerry Caplin, a.k.a. Jerry Capp, brother of Li'l Abner creator All Capp, invited Adams to draw samples for Capp's Ben Casey comic sstrip, based on the popular television medical-drama series. On the strength of his samples and of his Chip Martin, College Reporter AT&T advertising comic-strip pages in Boy's Life magazine, and of his similar Goodyear Tire ads Adams landed the assignment. The first daily strip, which carried Adams' signature, appeared November 26, 1962; a color Sunday strip was added September 20, 1964. Adams continued to do Johnston & Cushing assignments during Ben Casey's 3 1/2-year run.
Comics historian Maurice Horn said the strip 'did not shrink from tackling controversial problems, such as heroin addiction, illegitimate pregnancy, and attempted suicide. These were usually treated in soap opera fashion, but there was also a touch of toughness to the proceedings, well rendered by Adams in a forceful, direct style that exuded realism and tension and accorded well with the overall tone of the strip'.
In addition to Capp, Jerry Brondfield also wrote for the strip, with Adams stepping in occasionally.
The ABC series, which ran five seasons, ended March 21, 1966, with the final comic strip appearing Sunday, July 31, 1966. Despite the end of the series, Adams has said the strip, which he claimed at different points to have appeared in many newspapers ended 'for no other reason that it was an unhappy situation':
'We ended the strip under mutual agreement. I wasn't happy working on the strip nor was I happy giving up a third of the money to the TV series' producer, Bing Crosby Productions. The strip I should have been making twelve hundred dollars a week from, was making me three hundred to three-fifty a week. On top of that, I was not able to express myself artistically when I wanted to. But we left under very fine conditions. I was even offered a deal in which I would be paid so much a month if I would agree not to do any syndicated strip for anyone else, in order that I might save myself for anything they have for me to do'.