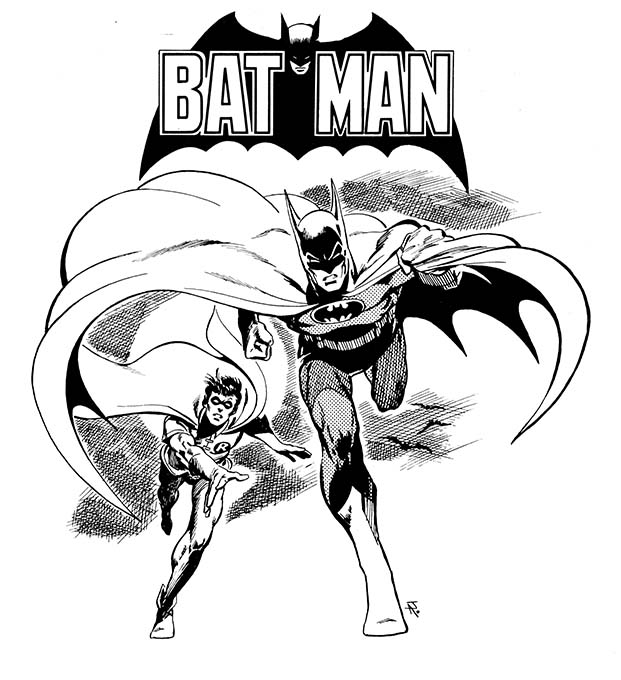 BATMAN
BOB KANE
Bob Kane (born Robert Kahn; October 24, 1915 – November 3, 1998) was born in New York City, New York. His parents, Augusta and Herman Kahn, an engraver, were of Eastern European Jewish descent. A high school friend of fellow cartoonist and future Spirit creator, Will Eisner, Robert Kahn graduated from DeWitt Clinton High School and then legally changed his name to Bob Kane. He studied art at Cooper Union before joining the Max Fleischer Studio as a trainee animator in 1934.
He entered the comics field two years later, in 1936, freelancing original material to editor Jerry Iger's comic book Wow, What A Magazine! including his first pencil and ink work on the serial Hiram Hick. The following year, Kane began to work at Iger's subsequent studio, Eisner & Iger, which was one of the first comic book 'packagers' that produced comics on demand for publishers entering the new medium during its late-1930s and 1940s Golden Age. Among his work there was the funny animal feature Peter Pupp — which belied its look with overtones of 'mystery and menace' — published in the U.K. comic magazine Wags and reprinted in Fiction House's Jumbo comics. Kane also produced work through Eisner & Iger for two of the companies that would later merge to form DC Comics, including the humor features Ginger Snap in More Fun Comics, Oscar the Gumshoe for Detective Comics, and Professor Doolittle for Adventure Comics. For that last title he went on to do his first adventure strip, Rusty and his Pals.
In early 1939, DC's success with the seminal superhero Superman in Action Comics prompted editors to scramble for more such heroes. In response, Bob Kane conceived the Bat-Man. Kane said his influences for the character included actor Douglas Fairbanks' movie portrayal of the swashbuckler Zorro, Leonardo da Vinci's diagram of the ornithopter, a flying machine with huge bat-like wings; and the 1930 film The Bat Whispers, based on Mary Rinehart's mystery novel The Circular Staircase.
Bill Finger joined Bob Kane's nascent studio in 1938. An aspiring writer and part-time shoe salesperson, he had met Kane at a party, and Kane later offered him a job ghost writing the strips Rusty and Clip Carson. He recalled that Kane 'had an idea for a character called 'Batman', and he'd like me to see the drawings. I went over to Kane's, and he had drawn a character who looked very much like Superman with kind of reddish tights, I believe, with boots, no gloves, no gauntlets, with a small domino mask, swinging on a rope. He had two stiff wings that were sticking out, looking like bat wings. And under it was a big sign ... BATMAN'.
Finger said he offered such suggestions as giving the character a cowl and scalloped cape instead of wings; adding gloves; leaving the mask's eyeholes blank to connote mystery; and removing the bright red sections of the original costume, suggesting instead a gray-and-black color scheme. Finger additionally said his suggestions were influenced by Lee Falk's The Phantom, a syndicated newspaper comic strip character with which Kane was familiar as well. Finger, who said he also devised the character's civilian name, Bruce Wayne, wrote the first Batman story, while Kane provided art. Kane, who had already submitted the proposal for Batman at DC and held a contract, is the only person given official company credit for Batman's creation. Comics historian Ron Goulart, in Comic Book Encyclopedia, refers to Batman as the 'creation' of artist Bob Kane and writer Bill Finger.
According to Kane, Bill Finger was a contributing force on Batman right from the beginning. He wrote most of the great stories and was influential in setting the style and genre other writers would emulate. 'I made Batman a superhero-vigilante when I first created him. Bill turned him into a scientific detective'.
The character debuted in Detective Comics #27, May 1939 and proved a breakout hit. Within a year, Kane hired art assistants Jerry Robinson, initially as an inker, and George Roussos as backgrounds artist and letterer. Though Robinson and Roussos worked out of Kane's art studio in The New York Times building, Kane himself did all his drawing at home. Shortly afterward, when DC wanted more Batman stories than Kane's studio could deliver, the company assigned Dick Sprang and other in-house pencilers as 'ghost artists', drawing uncredited under Kane's supervision. Future Justice League writer Gardner Fox wrote some early scripts, including the two-part story 'The Monk' that introduced some of The Batman's first 'Bat-' equipment.
In 1943, Kane left the Batman comic books to focus on penciling the daily Batman newspaper comic strip. DC Comics artists ghosting the comic-book stories now included Jack Burnley and Win Mortimer, with Robinson moving up as penciler and Fred Ray contributing some covers. After the strip finished in 1946, Kane returned to the comic books but, unknown to DC, had hired his own personal ghosts, including Lew Schwartz and Sheldon Moldoff from 1953-1967.