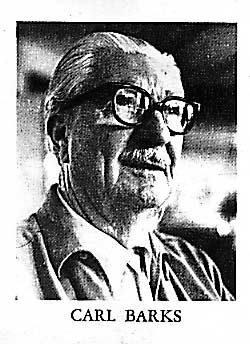 CARL BARKS EXTRA
Besides his work with the ducks Carl Barks was in his early career offered jobs with non Disney characters. Most well known of these assignments were his contributions dealing with the MGM cartoon characters "Barney Bear" and "Benny Burro". This sequence consisted of 29 short episodes and was carried out between 1943 and 1947. They were published in the magazine "Our Gang" and the first three of them only featured Benny Burro. Later he teamed up with Barney Bear. Four of these were only 6-pagers the rest was 8-pagers.
These stories are not unfamiliar to the Scandinavien Barks fans, since they were published in the monthly magazine "Tom & Jerry" in the mid 80'es and later in the mid 90'es. Whether or not the latter reprints consisted of all the episodes I do not know, since these reprints only came to my knowledge later and I have not a complete collection of those.
But apart from these 29 stories Carl Barks also did a couple of stories with characters from Walter Lantz and Warner Brothers. His first attempt was with Andy Panda. It was a 10 page episode normally referred to as "The Widows Doughnuts" published in "New Funnies" issue 76 from 1943.
For Warner Bros he did a 24 page story with Porky Pig called "Porky of the Mounties" and this long story was published in "Four Color" issue 48 in 1944.
Last but not least Carl Barks did two 8 page episodes with "Happy Hound" which is another name of the character mostly known as "Droopy" in a number of cartoons. This series is especially appreciated by cartoon buffs since the legendary Tex Avery directed a number of these cartoons with extreme impact and elegance. Barks' contributions with the "Droopy" character amounted to only two episodes.
The first of these is called "A Hard Day's Day Off" from "Our Gang" issue 9 in 1944. The second one is referred to as "Mother is a Wolf's Best Friend" and that one was premiered in the following issue 11 of "Our Gang" from 1944. One reason for adding these seldom seen Barks stories to this column is actually a special detail. In the column "Sejd Special" I present a funny animal 10 pager "Botje Bjørn" drawn by the talented Dutchman Daan Jippes. He took the script from the second of the Barks "Happy Hound" episodes and remade it in a 3 strip formula. This was merely a funny test for Daan. He was the artist who came to do pencils and inks of the later Carl Barks stories only available from the master's hand in pencil scribbles and published originally through the finished art from mainly Tony Strobl. But Daan made us experience these stories as if Barks had finished them himself in the prime of his drawing career.